Boston Education Action Network hosts panel, preps to expand work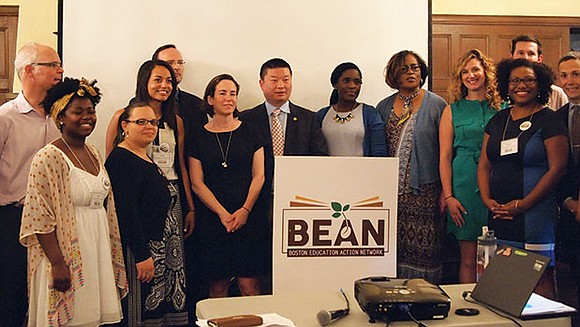 Boston Education Action Network is one of the newer groups on the city's education policy scene. Formed in 2016, BEAN comprises educators, parents, students and community members who may not have a direct involvement in school — for instance, financial workers with an interest in education, or those involved in housing policies, whose work tangentially affects education, said Mariel Novas, a BEAN leader and founder.
The fledgling organization has raised some concern because it draws support from Teach For America's political action branch, which also fueled money into ballot campaign efforts to lift the Massachusetts cap on charter schools. However, BEAN members say they operate independently, and BEAN has no official stance in charter expansion debates.
Now, after a summer of gathering in people's homes, BEAN is gearing up to play a larger role in Boston's public education landscape.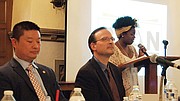 In an event held in downtown's Old South Church on Monday, a panel of leadership from charter schools, pilot schools and Boston Public Schools shared ideas on how to recruit and retain teachers of color. Many panelists said doing that requires making schools comfortable and culturally supportive places for teachers, hiring early and presenting teaching as a desirable career choice. Panelists also addressed efforts to improve student socioemotional support. Some speakers said meeting basic needs comes before academics and several underscored the value of establishing trusting, positive relationships with students' families early on. This way, staff can better comprehend the context of students' lives and have a positive rapport to ease any challenges and difficult conversations that may emerge later in the year. The final BEAN priority issue that was discussed Monday: How Boston's housing strain impacts school segregation.
Monday's event drew about 100 people. Most identified themselves as community members, while a handful said they were teachers, parents or school leaders.

Who is BEAN?
A team of former and current teachers founded BEAN in 2016. By the end of that year, they selected three focus goals. The leadership team comprises 13 people, and BEAN's listserv is in the range of 400 to 600 members, BEAN leader Mariel Novas told the Banner.
Novas emigrated from the Dominican Republic as a child and attended BPS. Now she works for Teach for America by day.
BEAN relies on philanthropic support from Leadership for Education Equity (LEE), the political action branch of Teach for America. Novas said this largely takes the form of aid, such as training on how to be organizers and assistance securing event and meeting space. BEAN's main expenses are food for meetings, she said, adding that BEAN acquires free use of meeting space via its members' networks. BEAN operates independently, and LEE supports creation of similar organizations nationwide, Novas said.
Some view the new group with wariness. Maurice Cunningham, associate professor of political science at the University of Massachusetts, writes on WGBH's MassPoliticsProfs blog that Strategic Grant Partners helped fund LEE's opening. In fiscal year 2015, Strategic Grant Partners gave LEE $150,000 and the promise of $550,000 in order "to help launch organizations in Massachusetts." Cunningham notes that Strategic Grant Partners is the same group that built Families for Excellent Schools, which in turn fueled money into Great Schools Massachusetts, the heavy-spending ballot campaign committee that advocated to lift the cap on charter schools.