Silver Line pilot aims to show bus rapid transit time savings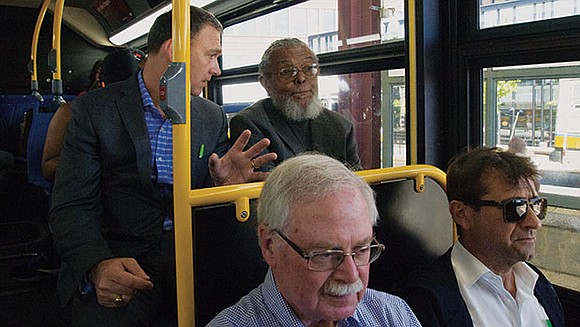 Silver Line buses threw open all their doors during a May 24 to June 6 pilot, allowing riders of the SL4 and SL5 lines to board through any door for free. The two-week long trial, paid for by the Barr Foundation, was intended to demonstrate how much time riders would save if they did not have to line up at one door and pay the fare as they board.
Off-board fare collection, along with designated bus-only lanes and traffic signal priority, is a key element of upgrading a route to bus rapid transit (BRT) Gold Standard levels. Representatives of BostonBRT, a group advocating for BRT and studying implementation of the system in Greater Boston with support from the Barr Foundation, regard faster bus travel as a priority solution to Greater Boston's transit needs.
Changing over to bus rapid transit means prioritizing buses over cars on road space, which is a trade-off not everyone values. Last week, BostonBRT Advisory Committee members gathered at the Bolling Building before boarding the Silver Line at Dudley Station for a demonstration ride to downtown.
During the Bolling Building pre-ride meeting, members said that the pilot's goal was to show the public the benefits BRT promises. They hope to demonstrate that the tradeoff of lessened space for individual cars is worthwhile. Winning people over to BRT also entails dispelling a prevailing view that buses are poorly functioning and are only taken by people without the financial ability to have other options, said Mary Skelton Roberts, the Barr Foundation's senior program officer for climate.
"Part of the effort is for us to stop ignoring buses and put them at the forefront," Skelton Roberts said.
The Silver Line's Washington Street routes carry about 14,000 riders each weekday and were selected for the pilot in part because several BRT Gold Standard requirements already are in place: designated bus lanes and traffic signal priority. According to a 2015 report from BostonBRT's study group, adding off-board fare collection and all-door boarding could trim the travel time between Dudley Square and downtown from about 22.8 minutes down to about 12.5 minutes. The study group found that 66 percent of delays on the Silver Line came from the time it took customers to line up, pay, enter and exit the bus.
Another time around
This is not the first push for BRT in Boston. A previous effort around the 28X line proposed for Blue Hill Avenue died in December 2009 after facing resident pushback. In part this was because residents wanted a trolley and believed buses were not up to the same standard, said State Rep. Russell Holmes who had been a major advocate for the 28X BRT and a member of BostonBRT's ten-person Advisory Committee.
Another challenge was that the bus route lost some of its rapid transit elements when it hit Grove Hall and narrower streets forced it to return to regular lanes where it shared space with cars and became caught up in traffic, Holmes said. When the bus had to return to regular traffic "that eroded the experience immediately," he told the Banner.