Mayor makes changes to police review board
Civil rights activists see little benefit to changes
Yawu Miller | 6/7/2017, 3:17 p.m.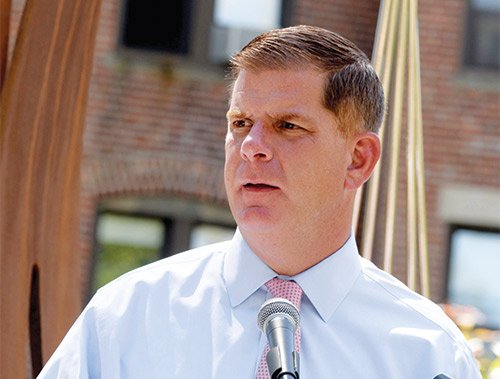 For the last 27 years, civil rights activists, attorneys and black elected officials have called on city officials to create an independent civilian review board with the power to investigate allegations of police abuse and misconduct.
For 22 of those years, the city has instead maintained a Civilian Ombudsman Oversight Panel board, a three-person group charged with reviewing a random sample of the cases handled by the Police Department's Internal Affairs Division as well as those referred to it by civilian complainants to assess the fairness and thoroughness of IAD investigations.
This week Mayor Martin Walsh announced changes to the COOP board he said would strengthen its ability to monitor Internal Affairs investigations — increasing the number of panel members from three to five and increasing the share of IAD complaints the board handles. Walsh said the changes to the COOP board and a declining number of civilian complaints mean there's little need for civilian oversight of police in Boston.
"I want to get these cases to zero," Walsh said of civilian complaints. "That's our goal. Our goal is to have complete trust and a great working relationship between the community and the officers."
But civil rights attorneys said anything short of an independent civilian review committee with the power to conduct its own investigations means those who suffer from abuse at the hands of police have little chance of obtaining justice.
"It sounds like they're tinkering around the edges," said attorney Howard Freidman, who often represents clients in police misconduct cases.
In 2015, after the mayor pledged to reform the COOP board, the three-member body proposed the creation of an independent civilian body with sufficient staff and resources to investigate allegations of police misconduct. COOP board members envisioned a civilian-run Office of Police Accountability with an executive director, a staff of ten and an office as a way to restore public confidence in the Boston Police Department.
IAD investigations can often take years to complete and seldom find in favor of civilian complainants. Of the IAD complaints lodged by civilians against officers in 2010, only 13 percent were sustained. In contrast, IAD sustained 84 percent of the Police Department's misconduct charges against its own officers that year.
The long odds that charges will be sustained, the often long waits for cases to work their way through IAD and an often opaque process during which complainants are left in the dark about the status of their complaints have undermined the public's confidence in the department's commitment to investigating civilian complaints, according to Friedman. Tweaking the COOP board likely won't change that.
"The fact that the mayor's proposal is not even what the COOP board said they wanted says a lot," Friedman said.
Long process
Currently, to initiate a COOP board investigation, complainants must first bring a complaint to IAD. Complainants have two weeks after receiving a finding from IAD to appeal to the COOP board for review. The board can then review the IAD investigation and issue a determination on whether the investigation was sufficiently fair or thorough. If the COOP board finds an IAD investigation was insufficient, it can send a letter to the police commissioner requesting that he review the case.