City poised to sell off Roxbury land
BPDA begins land disposition process
Yawu Miller | 7/26/2017, 9:56 a.m.
Local residents had a chance recently to browse maps showing eight vacant Roxbury land parcels owned by the Boston Planning and Development Authority and give feedback on possible development of the sites. The displays were set up in the community room on the top floor of the Bruce Bolling Municipal Building July 17, and Roxbury community members took a look and voiced some thoughts at a BPDA-hosted public meeting.
The publicly-owned vacant lots under consideration are in an area designated as the Washington Park Urban Renewal Area, a triangular swath of Roxbury bordered by Warren, Washington and Seaver Streets. The scattered sites could hold dozens of residential units to help meet the city's seemingly insatiable appetite for new housing.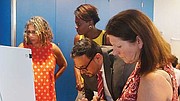 But if Oscar Murphy had his way, at least one of those parcels would remain the way it is: vacant.
"What do you want to see there?" asked BPDA Senior Planner Courtney Sharpe of one of the lots, at the corner of Walnut Avenue and Dale Street, which abuts Murphy's triple-decker house.
"A parking lot," Murphy said.
"No green space?" he was asked.
"You could put some trees there," he replied.
Murphy and other Roxbury residents who turned out to the planning meeting — many of them homeowners — voiced concerns about the increased density that comes with increased interest in vacant land, and a failure to address parking needs.
Roxbury has more parcels of vacant land than any other neighborhood in Boston. Those the BPDA is considering now for development were taken by the city decades ago under urban renewal, a federal program aimed at spurring redevelopment in cities during the decades from the 1940s to the 1970s. The agency (known then as the Boston Redevelopment Authority) cleared and acquired many parcels of land in the Washington Park Urban Renewal area.
Some development has occurred over the years on the urban renewal lots: the Washington Park Mall; affordable housing developments like Marksdale, Crestwood Park and Warren Gardens; the Trotter School; the Dudley branch library; the now-demolished Area B2 police substation; and the Roxbury District Court building.
But many lots have remained vacant to this day. And at last week's BPDA meeting, some said they'd rather see the lots remain that way than endure more new development.
"I'm hearing a lot of anger about development in Roxbury," said Domonique Williams, a lifelong Roxbury resident who is running for a seat on the City Council. "People want more affordable housing, more affordable rentals. And the folks here are generally saying no more gentrification. No more overdevelopment."
Many point to projects like 225 Centre Street, the Jackson Square apartment building in which two-bedroom apartments rent for more than $3,000 a month, as an indication of where the Roxbury market is heading.
Similarly, a representative of the development team planning a 322-unit complex at 45 Townsend Street told community residents recently that rents in those new buildings would be in a comparable range. Abutters of that development have expressed concern also that the Townsend Street complex would include only 217 parking spaces – just .75 per unit – potentially exacerbating already tight parking in the surrounding area.