Advocates hope Finish Line Grant will be key to college — and to jobs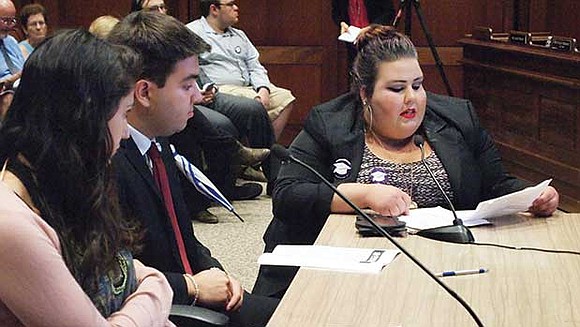 Imagine this: getting up at 5 a.m. to do laundry, get your kids dressed and fed and off to school or day care, then heading out for a day's work — and, at 7 p.m., turning up to community college for two and a half hours of study. Professor Sandra Howland said that is the common experience for students in her English as a Second Language class at North Shore Community College, where nearly all members of the class work exhausting full-time jobs with few to no benefits.
During a recent State House hearing on higher education affordability, Ignacio Chaparro, a graduate of UMass Boston, recalled friends who worked two to three jobs while in school in order to pay for tuition, fees and supplies. Even now, while Chaparro pursues a master's degree at Northeastern, some of his friends from UMass still struggle to complete their undergraduate work, having had to delay graduation as the costs of attendance continue to rise.
The problem is set to worsen: UMass-Boston last week approved a 3 percent hike to in-state student tuition and fees.
Finish Line Grant
Many who turned out to the hearing said higher education has become a necessity to better economic outcomes, both for individuals, their children and their children's children. Yet the cost burdens can push degree completion back by years, or even entirely out of reach.
To ease the pain, advocates called upon the state legislature to pass a bill establishing the so-called Finish Line Grant, which provides one year free of tuition and fees for a resident attending a Massachusetts state college or university. The grant only can be used for a year other than the first one, and for a program that leads to an associate's or bachelor's degree. Students also must be from families who make below twice the state's median family income. Many advocates made clear they see this grant as one step toward their ultimate goal of free public higher education.
Time to be competitive
Victoria Dzindzichashvili is a Public Higher Education Network of Massachusetts (PHENOM) board member and UMass Boston alum who formerly worked as a graduate program assistant at UMass. Dzindzichashvili said that the many students who work two to three jobs have difficulty meeting with counselors who only have daytime availability. Working students also cannot afford to take prestigious, resume-building — yet unpaid — summer internships. Dzindzichashvili said she took a five-year hiatus to work before eventually completing requirements for her bachelor's degree ten years after enrolling at UMass.
Less time spent in jobs also means greater ability to focus on studies and more time to engage in coursework and campus organizations, students said. Rep. Natalie Higgins said high college costs meant that when she was a student, she tried to rush through in order to reduce the expense, skipping her freshman year and taking unusually hefty course loads.
Meanwhile, those who cannot afford college become locked out of many jobs that would help improve their economic status, said Rep. Denise Provost. She attended the hearing to advocate for a separate bill that would provide two years of free community college for GPA-qualifying high school graduates.