The Venice Biennale art show on view through Nov. 26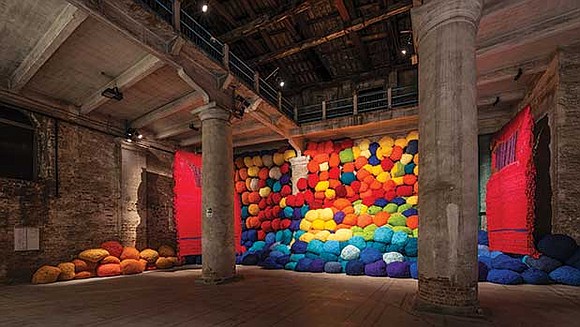 Utopias, dreams, losses, memories and hard truths all have a place in the carnival midway that is the Venice Biennale, which every two years for more than a century has turned its host city on the Adriatic into a showcase of both the state of contemporary art and the state of the world.
The 57th edition opened in May and remains on view until November 26, providing a sampling of spectacles from 86 countries and 120 artists, including 103 first-time participants. Some works occupy the permanent pavilions of 30 nations in the Giardini, a forested park along the Venetian Lagoon. Still more fill the cavernous Arsenale, where Venice built its ships during the 12th through 18th centuries, when it ruled the Mediterranean in trade and military might.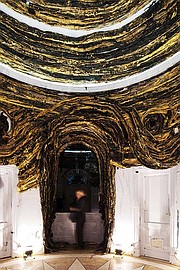 A big draw is the pavilion of Germany, which received the Golden Lion, the Biennale's the top prize, for its portrayal of angst. Frankfurt-based artist Anne Imhof, 39, gutted the large structure, transforming it into a glass house with transparent walls and floors that offers visitors views of each other and, underfoot, a spare assortment of cast-off objects suggesting the left-behind possessions of young drifters, including a guitar, shell casings, eating utensils, clothing and a sleeping mat. At scheduled intervals, a cadre of young actors accompanied by Doberman Pinschers marches in unison and strikes sculpted poses, as if in an edgy fashion show.
More connected to the real world is the installation by Mark Bradford in the US pavilion, a structure modeled on Thomas Jefferson's Virginia mansion, Monticello, complete with Doric columns. A MacArthur genius award recipient, Bradford turns the pavilion into a symbol of ruin, starting with its courtyard, which he filled with debris and a cement slab inscribed with a Greek poem about Hephaestus, the god of the forge. Hero of artists and outsiders, the god was cast off Mount Olympus for his singular flaw — a lame foot. As visitors enter the first of five galleries, they squeeze around a massive, blotchy structure entitled "Spoiled Foot." The pavilion's elegant rotunda is now a raw grotto, coated with black and gold coils of bleached paper.
Black and gay, Bradford often addresses intolerance and injustice in his semi-abstract works, many composed of end papers used by his late mother, the owner of a beauty salon, to straighten her clients' hair. Her salon is now part of his studio in South Los Angeles, where he runs a project engaging vulnerable youth in art projects. In Venice, Bradford has developed and funded a six-year program that trains and employs inmates in two local prisons to produce luxury accessories, preparing them for life after release.
Imagined past
An outsider's perspective is also rendered in the Australia pavilion, where Tracey Moffatt, an artist of mixed-race heritage, creates suggestive dramas evoking the Aborigine experience. In her series of large-format photographs entitled "My Horizon," she portrays herself wearing mourning earrings and attired in a maid's uniform, honoring the livelihood of her mother and grandmother, as she visits barren landscapes. Her haunting video, "The White Ghosts Sailed In," simulates a grainy reproduction of a video showing the headlands of Sidney Harbor, where in the 18th century, ships carrying convicts expelled from England first entered the country, setting in motion a migration of European settlers that claimed Aborigine lands.