Walsh's State of the City Highlights Education Funding
Jule Pattison-Gordon | 1/17/2017, 8:50 p.m.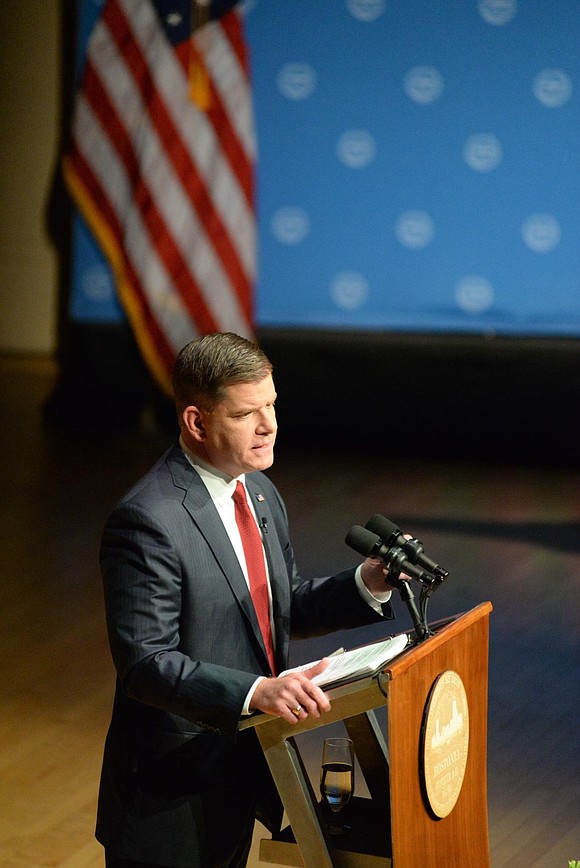 In his State of the City speech Mayor Martin Walsh promised to file significant education funding legislation and direct $1 billion to school facilities.
"Boston is entering a new era of school investment," Walsh said. "We will create high-quality 21st-century classrooms for every student, connected to every neighborhood, college, and workplace in our city."
Walsh said his term thus far has been marked by highlights such as affordable housing creation, promotion of a start-up sector, redress to veteran homelessness, recruitment of high-profile companies and reduction in homicides.
"My plan is clear. It's good jobs in every neighborhood; massive investments in affordable housing and open space; infrastructure upgrades to fix traffic; free high-quality pre-kindergarten for all; $1 billion for new schools; and doubling down on community-driven public safety," Walsh said.
Education package
Walsh's education proposals aim to direct more funding to the city's students. One message that seemed woven throughout: Boston generates a lot of money and Boston students need a lot of money — far more than they have been receiving. Several proposals seemed designed to keep more of the state revenue produced within the city from being utilized by the rest of the state and instead invest the money into advancing city education efforts.
One proposal would re-direct some tourism tax revenue generated within the city that normally goes into the state Convention Center Fund. (In the past, the state has dipped into this pool to help balance the budget, notes the Walsh administration). Instead, funds would be redirected into financing pre-K seats for all Boston four-year-olds.
Another common theme: a (well-earned) doubt that state will come through on charter reimbursement obligations. A second proposal from DiDomencio would redesign the reimbursement schedule, truncating it from five to three years. Under the current arrangement, the state reimburses school districts for a portion of their per-pupil spending that is diverted to charters. DiDomenico's bill would require that the state cover 100 percent of the funding in a student's first year, 50 percent in the second and 25 percent in the third, with the school district paying the difference.
The Walsh administration is proposing a bill, sponsored by Rep. Adrian Madaro that would allow charter schools to tap into the state's School Building Fund to construct new buildings.
Sen. Sonia Chang-Diaz sponsored a bill that revises the formula for calculating state education aid to communities such as Boston that spend beyond the state assessment of a minimally acceptable school budget.
Sen. William Brownsberger and Rep. Daniel Ryan sponsored a bill that requires charter schools to take some responsibility for their transportation costs. Districts currently pay for transit but have no control over charter school stop and start times, preventing more efficient bus routing. If the proposal is implemented, charter schools would pick up 50 percent of the transportation bill when they and district schools cannot agree over scheduling, and charter schools would have to pay for any third-party transportation providers they elect to use.
$1 billion BuildBPS
The city will spend up to $1 billion on new school buildings over the next ten years, Walsh announced. The building project, the culmination of the city's Build BPS process, will reflect the city's new educational priorities, according to the city's education chief, Rahn Dorsey.