Raucous comedy 'Hand to God' on stage through Feb. 4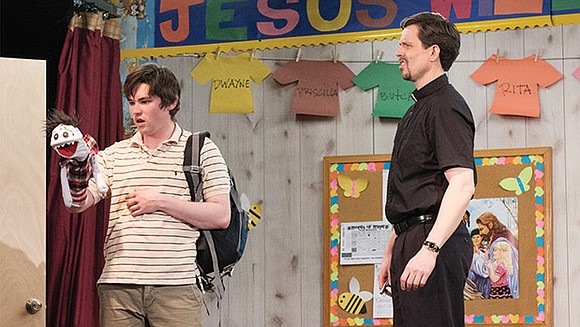 Starting with Adam and Eve, humans have pointed to forces beyond themselves to dodge responsibility when things go wrong. We shift blame, if not to a serpent then perhaps to a dominating parent — but to a talking sock?

Devilish sock puppet Tyrone taunts and tempts his five human companions into mayhem in the raucous, adult-only comedy by Robert Askins entitled "Hand to God." The SpeakEasy Stage Company is presenting its New England premiere through February 4 in the Virginia Wimberly Theatre at the Boston Center for the Arts.
Playwright Askins, 36, until recently also a Brooklyn bartender, sets his play in his own hometown, Cypress, a suburb of Houston, and aside from its demon puppet, draws some of the plot from his own early life.

The set up
Jason, a sweet-natured but desperately unhappy teenager whose father has just died, longs for help and understanding from his mother, Margery. But she is preoccupied with her own grief, which she buries in her puppet ministry. Jason helps her with the puppet show practice, which they hold in the basement of their church. But he is disturbed to find that his own puppet, Tyrone, has taken on a nasty life of its own.
A truth-spewing demon, Tyrone voices the hidden thoughts and desires of others, and with slander, lies and innuendos, preys on their fears and pain, provoking ill will and chaos. And yes, this is comedy.
After its 2011 premiere off-Broadway, the play gained a second run in a new production that in 2015 moved to Broadway, garnering five Tony nominations. During this theater season, "Hand to God" is the most produced play in America, with 13 productions.

Local actors
Directed by David R. Gammons, the Speakeasy production is a showcase of local talent that radiates the joy of ensemble acting. We enjoy watching these actors go about creating roles that brim with humanity. The cast of five makes us care about these characters and see ourselves within them. Even the satanic Tyrone gains a moment of sympathy. It turns out that he, too, can be vulnerable and succumb to desires, seduced by a female puppet animated by Jessica, who helps her friend Jason loosen Tyrone's grip.
Eliott Purcell gives a sensational performance in the dual roles of raspy-voiced trickster Tyrone, and Jason, who longs for consolation and laments, "I don't want to be bad."
A versatile actor who is a member of Actors' Shakespeare Project, Marianna Bassham plays Margery, convincingly rendering both her quiet hysteria and volcanic release. Lewis D. Wheeler plays Pastor Greg, at first dorky and sanctimonious, with a squeaky Texas accent, and later as a steadfast man in a crisis.

Josephine Elwood is a natural as Jessica, a sensible girl who is sweet on Jason. As bad boy-man Timothy, Dario Ladani Sanchez gives his character's feeling for Margery a poignant touch of sincerity.
Puppet cast members are Tyrone, and briefly, the seductive Jolene, handled by Elwood. Demonstrating the intimate power of puppetry, the actors gained guidance from Roxanna Myhrum, artistic director of Puppet Showplace Theater in Brookline, and Jonathan Little, who crafted the sock puppets.