New city report on gender wage gap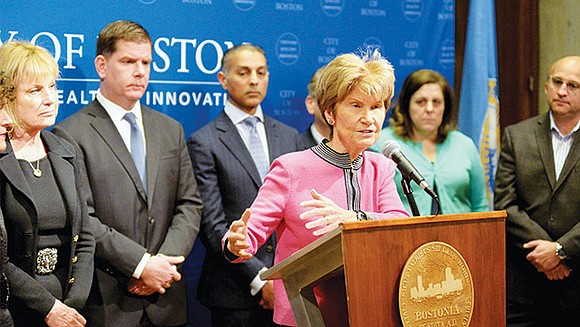 The Boston Women's Workforce Council last week released a report outlining the extent of the gender wage gap in Boston. In a city where they are the majority, women still earn roughly 23 fewer cents on the dollar than men. And for women of color, the rate continues to be even worse.
"Women make up the majority of Boston, but like most cities, companies and nations around the world, women— especially women of color — are underrepresented and underpaid in our workforce," Mayor Martin Walsh said in a press release.
In a Banner phone interview, Megan Costello, BWWC member and the city's director of the Office of Women's Advancement, said while the data is important, what's truly groundbreaking is how it was gathered. The report is the first in the nation to gather current wage data from the employers directly — rather than self-reports from individual employees or census data. Speaking separately to the Banner, Costello and City Councilor Ayanna Pressley said legislation alone cannot close the persistent gap.
"You cannot legislate behavior," Pressley said.
What will make a difference: a shift in corporate culture toward recognizing the talent of women and the need for implementing tangible, result-driven steps to narrow the gap.
"Closing the wage gap can be supported through legislation, but it's more about culture and actual changes that need to happen in workforces and with individual women, and when and how they ask for salary increase," Costello said.
The willingness of companies to provide data on their practices could indicate such culture change is starting, Pressley said.
"A number of employers self-reported. Hopefully that shows a culture shift," Pressley said.
The gender earning gap has extensive impact on women, including reduced ability to support oneself and one's family; lessened autonomy; fewer resources; lower savings for college, retirement or emergencies; and lessened Social Security earnings.
Data and limitations
Report authors drew on information disclosed by 179 Greater Boston businesses, along with information on local employers from the U.S. Equal Economic Opportunity Commission. Their data reflects about 11 percent of the Greater Boston area's working population, or about 112,000 workers. The source and depth of the data represent significant achievements, Costello said.
However, employer provided data came via voluntary disclosure and the sampling was not was not reflective of the workforce in the metropolitan region as a whole, authors said. For one, participating firms were more likely to employ women.
Furthermore, some employers did not include information by race when reporting salary information. Because the data was made anonymous before researchers received it, they were unable to identify which companies failed to supply the information or follow up with them. This problem affected 7 percent of the salary data. Because of that, the report authors said they could not with confidence include any findings on the racial breakdown of gender-based wage gaps.
Pressley said that while numbers are useful because they allow people to be held accountable, it was unlikely the racial wage gap data would reflect anything not already known. Even with data missing, the BWWC report represents an important step in maintaining attention on disparities and encouraging company participation in solutions, she said.