Group advocates greater inclusion for Hub Latinos
Activists see disparities in nonprofit, gov't sectors
Yawu Miller | 1/11/2017, 9:44 a.m.
In the basement room of the Connolly branch of the Boston Public Library, children decorate crowns in preparation for their celebration of El Dia de Los Reyes Magos, the January 6 celebration of the day the three kings visited the newborn baby Jesus.
Outside the library building, a band playing parrandas, traditional Puerto Rican Christmas season songs, warms up for a march led by teens with the Hyde Square Task Force, dressed as the three kings. The event, organized by the Task Force, underscores the organization's role as an anchor for the local Latino community.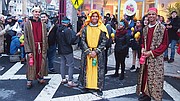 When the Task Force was founded more than 20 years ago, it was one of many organizations serving the local Latino community. But as the community has grown in the Greater Boston area, the number of nonprofits led by Latinos in the area actually has declined. Major organizations including Centro Latino in Chelsea, the Hispanic Office of Planning and Evaluation and Oficina Hispana closed their doors in recent years. Other organizations, such as La Alianza Hispana, have downsized.
The Greater Boston Latino Network, a group of executive directors of leading local organizations, last week launched a new campaign to increase the presence of Latinos in decision-making positions in nonprofits and government. GBLN also is planning a January 15 "counter-inaugural event" at the Boston Public Library and will release a report on the status of Latino-led organizations as part of its efforts to support them.
While the organization continues to collect data on Latino-led organizations, members say they likely will conclude that their share of charitable dollars is not commensurate with Latinos' share of the population in the Greater Boston area.
According to a 2011 report, Latino-led organizations receive just 1 percent of all charitable dollars donated in the United States. In Boston, the majority of charitable dollars here traditionally have gone to universities, hospitals, museums and other major institutions, while funding for community-based nonprofits has declined in recent years.
The funding struggle has GBLN members concerned.
"There are very unique services and attributes that Latino-led organizations have that other organizations don't have," said Marta Rivera, coordinator of the Greater Boston Latino Network. "We're looking at how we can better help sustain these organizations."
For one, Latino organizations tend to provide a wide range of services, while foundations have moved toward funding a narrower range of programs.
"We're multiservice organizations," said GBLN member Alex Oliver-Davila, executive director of Sociedad Latina, which provides educational and arts programing for teens. "In the Latino community, there are so many issues, you can't work on just one. There's no way a young person is going to perform academically if their family's needs aren't being met."
Many local foundations that traditionally have funded youth program areas including civic engagement and youth organizing have shifted their focus to college preparation, a development that has made the funding environment more challenging for Latino-led organizations that service teens, says GBLN member Celina Miranda, executive director of the Hyde Square Task Force.