'Hidden Figures' sheds light on NASA's 'human computers'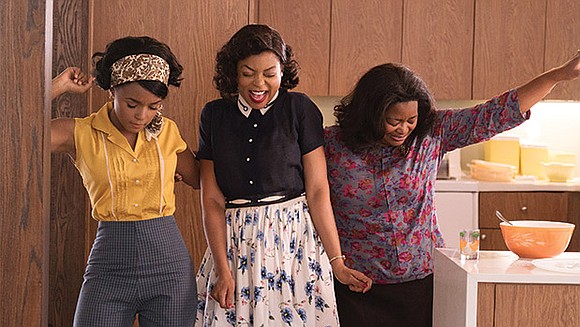 "I really hope that as many people as possible from all different kinds of backgrounds find the same inspiration in this story and in these women that I found. That's what I really want," said author Margot Lee Shetterly of the film "Hidden Figures," opening in theaters nationwide on Friday.
Shetterly's book, "Hidden Figures: The American Dream and the Untold Story of the Black Women Mathematicians Who Helped Win the Space Race," (which debuted at No. 7 on The New York Times Best Seller list), is the basis for the film. It tells the true story of a group of African
American women working at NASA, known as the "human computers," who were part of the team that launched John Glenn into space and helped to advance the United States in the Space Race against the Soviet Union.
The film centers on three of these women: Katherine G. Johnson (Taraji P. Henson), Dorothy Vaughan (Octavia Spencer) and Mary Jackson (Janelle Monáe), and chronicles their ambitions, struggles and friendship against the backdrop of segregation, Jim Crow and gender inequality.
For Shetterly, who grew up in Hampton, Virginia, it was normal to see African Americans working in the fields of science, math and engineering. Her father was a scientist at Langley Research Center and her mother was an English professor. Five of her father's seven siblings were engineers or technicians, while her father's best friend was an aeronautical engineer, and one of her neighbors was a physics professor.
Shetterly was in Boston last month hosting screenings of the film at MIT and Harvard, and she sat down with the Banner to talk about Dorothy Vaughan and the legacy of these pioneering women.
These women led incredible lives and they seemed so matter of fact about what they could do and accomplish. Did you find that to be true in doing your research and talking to their families?
Margot Lee Shetterly: Absolutely. First, a lot of these women started during the Depression, went to school during the Depression. Dorothy Vaughan didn't get to go to graduate school because she had to support her family, get a job, support herself. I think there's a lot to be learned from people who did grow up during the Depression and WWII and were just like 'You know what? This is the circumstance. We're just going to have figure out the best way forward.' And that was really the kind of attitude. 'I'm just doing my job,' and that was it.
In reading the book, I was struck by the sacrifices that these women made, especially Dorothy Vaughan. She left her family in 1943 and took a risk to give them a better life. I know you interviewed her children. Were they able to convey what her feelings were during that period in her life?
MLS: Honestly, I spent a lot of time with her kids. One of her sons went to school with my mom, and went to school with Katherine Johnson's kids. It's like this whole cohort of people in Hampton, an interlocking sort of community ties. Her daughter Ann, who is a lovely, lovely person, was like, 'You know what? She was not afraid of anyone or anything. She was fearless.' She was like this diminutive 5'1" tiny, little woman. I just remember and I put this in the book because it was such an interesting thing. Whenever she started tapping her finger on the table like this [Shetterly taps the table], you just knew to back down. That meant that you had reached the breaking point, if Mrs. Vaughan started doing that. It just seems that she was so smart, so confident in her abilities, very humble, never sought the spotlight. Always willing to sacrifice for her family; fiercely loyal to the women who worked for her. Very much the teacher; always like, 'Listen girls, you gotta do better here, because times are tough. We're going to have to take it to the next level.'