City loosens performance licensing
Small businesses can skip process for small shows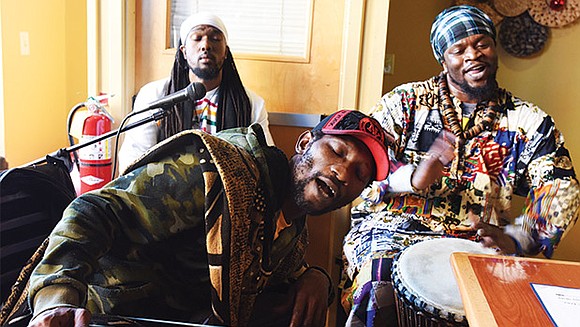 Local musicians, actors and businesses are expected to see a boost in activity as the city rolls out its Acoustic on Main program. Implemented Jan. 1, the initiative removes the administrative and fee burden to many businesses seeking to host musical acts — a two-in-one offering intended to provide artists with more performance space and bring stores greater foot traffic.
Tested in three short pilot runs in 2015, the program allows small businesses operating in designated business districts to host live entertainment with up to five performers, limited to one microphone, between 10 a.m. and 10 p.m. without having to obtain an entertainment license. Performances are not limited to music, and may include anything from improvisation to slam poetry.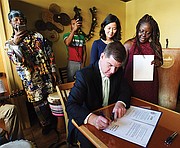 "We hear a lot about how there are so many amazing artists in Boston that don't have enough venues for performance," City Councilor Michelle Wu, sponsor of the new bill, told the Banner. "Our small businesses are the anchors of our neighborhoods. It seemed like a great way to open up more opportunities for everyone."
Burden lifted
Formerly, the complicated and lengthy process for securing an entertainment license — which includes a hearing and at least one trip to city hall — deterred many smaller businesses, especially those not planning to host shows on a regular basis, Wu said. Joyce Stanley, executive director of Dudley Main Streets, said that the time away from their businesses to handle paperwork or trek to city hall has been a significant obstacle to small stores that may have only two or three people operating them, The licensing process also carries a $100 fee.
Restaurants and bars primarily have been the businesses securing licenses, but simplifying the procedure allows for greater flexibility in the types of performance spaces used, said Abby Furey, Neighborhood Business Manager, Mayor's Office of Economic Development.
"Ideally I'd love to see little storefronts having poetry readings, or guitars in a local supermarket," Furey said in a Banner phone interview. "There are all kinds of ways of looking at this. My hope would be that it leads to performances at venues beyond what have been traditional venues in the area."
Businesses surveyed said the wintertime pilot helped them recoup profits lost to harsh snows, and the summer trial days boosted what is typically a slow season. What are normally low-traffic days such as Mondays and Tuesdays became as active as Thursdays, Friday and Saturdays, Wu said.

Based on feedback from restaurateurs, the program rolling out this month goes beyond the pilot's 4 p.m. to 9 p.m. window to offer earlier and longer performance opportunities. This version also allows any commercial district, not just designated Main Streets, to participate, Wu said.
The program will be up for renewal in 2017, in order to allow for adjusting policies based on response, such as altering the hours to better suit residents' noise level requests.

Dudley Square
Dudley Main Streets' Stanley said the program advances the vision of Dudley as a site of multicultural expression, reflective of the local population's wide range of countries of origin.