Massachusetts senators push to end mandatory sentence minimums
Yawu Miller | 2/22/2017, 10:47 a.m.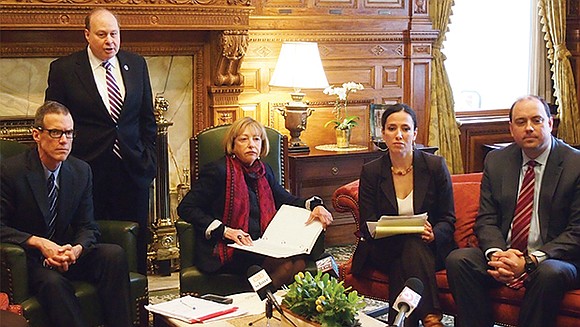 With momentum building for criminal justice reform, state senators are preparing to push for a legislative package they say will reduce the number of people incarcerated in Massachusetts and save the state money.
In a recent meeting in the State House office of Senate President Stanley Rosenberg, members of the Massachusetts Black and Latino Legislative Caucus and the Massachusetts Harm Reduction and Drug Law Reform Caucus outlined their legislative priorities in a meeting with reporters.
Sen. William Brownsberger said he and his colleagues intend to work on the full spectrum of criminal justice reform, including what he termed "front-end issues" — alternative sentencing, bail reform and ending mandatory minimum sentences for minor drug offenses, as well as "back-end issues" affecting people exiting incarceration, such as good behavior and early release, and "collateral issues" — fees and fines that often keep low-income offenders caught in the criminal justice system.
Brownsberger stressed that the Council of State Government report, which sparked controversy among reform activists with its narrow focus on probation reforms, is a small portion of the overall push for change.
"There is a much bigger picture of criminal justice reform that the Senate and the House and the governor all have an interest in," he said.
After an introduction from Rosenberg, the senators spoke about a wide range of legislative priorities.
First Middlesex and Suffolk Sen. Cheryl Creem said she plans to file legislation allowing judges to consider diversion for offenders under 17, giving judges more discretion to apply alternatives for minor offenses that would allow them to avoid having a criminal record as well as eliminating minimum mandatories.
"Judges ought to have the ability to look at all the facts when they do sentencing," she said. "We're spending $70 million keeping people behind bars in drug areas. Many people are doing longer sentences than people who are incarcerated for rape or burglary."
Reform grows
The senators' push to abolish mandatory minimums is in line with a growing movement in the United States — even among Republican-dominated states, Creem noted.
"Red states have been way out ahead of changing mandatory minimums because of cost issues," she said.
Second Middlesex and Suffolk Sen. Karen Spilka said she would like to see the age for people in the juvenile justice system raised from 18 to 21, as well as an easier process to expunge juvenile records.
"We know that all kids make mistakes," she said. "We are imposing sentences on young adults instead of giving them rehabilitation."
Fourth Middlesex Sen. Kenneth Donnelly filed bail reform legislation aimed at reducing the number of low-income people held in jails without having been tried or convicted of a crime.
"Right now we are putting people in prison who don't have the money to pay bail," he said. "People that have money, who are selling drugs, can pay bail. It sets up a system that is not good."
Donnelly, too, cited Republican-dominated states like Texas and Georgia that have reformed their bail system to keep nonviolent offenders out of jail.