Jimmy Tingle pulled no punches on Trump during stand-up routine
Tingle played Sanders Theatre Feb. 4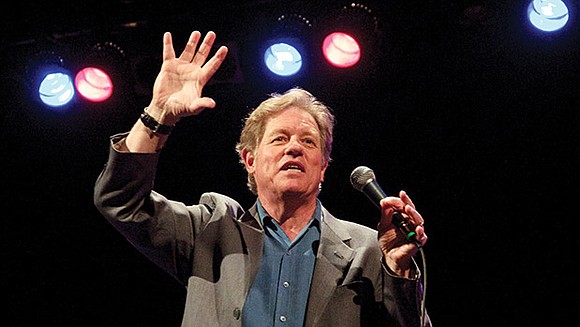 Stand-up comedy, social justice and politics mingled in a tasty brew last Friday night at Sanders Theatre in Harvard Square, where renowned Cambridge-born comic Jimmy Tingle presented his one-man show, "Humor for Humanity: Jimmy Tingle in the age of Trump."

Captivating his audience of 1,100 over two hours with one intermission, Tingle pulled no punches in his assessment of the new president's first two weeks in office. Cathartic in its exposure of the absurdities, follies and human toll of Trump's decisions, Tingle's humor had bite but not bitterness. If there were Trump voters in the audience, they had no cause to feel unwelcome. Tingle focused not on the man but on his actions.
Character sketches
Outfitted in an unbuttoned jacket and plain tie, like a slightly rumpled office worker, Tingle demonstrated his mastery of stand-up art, with his timing, pauses and use of his entire body and voice to morph into various characters. One was his 93-year old aunt, shopping for medical treatment in a privatized health care market, as she phoned a friend and in a wheezing voice said, "There's a special on hips today … shall we go?"
Later, he mimicked a border control officer calling his boss to report the arrival of a Palestinian Jew with 12 followers, making the point that with the new restrictions on refugees, even Jesus would have a hard time getting into the USA.
Tingle's only prop was a podium. He used it only once, to read out the names of the 20 nonprofits the show was supporting with a portion of the ticket price.
Tingle's website describes his "Humor for Humanity" project as a "social enterprise and solo show…which aspires to raise spirits, funds and awareness" for social causes. Its brand of humor is "entertainment for a purpose beyond itself, to celebrate people doing good work that demonstrates "who we are and who we aspire to be."
A comic with an amiable rapport and an eye to injustice and hypocrisy, Tingle, 61, has had a long career spanning TV, radio, film and stage, and from 2002 to 2007 ran his own theater in Davis Square, Somerville — a revered club-scale venue for live shows. In 2010, Tingle earned a master's degree in public administration from Harvard's John F. Kennedy School of Government, which borders Harvard Square, where in the 1980s he got his start in standup as a street performer.
Stevie Wonder songs played as people took their seats. The program began with video clips of street protests from '60s civil rights marches to last month's Women's March, accompanied by the 1967 anthem sung by Buffalo Springfield with the familiar chorus, "It's time we stop, hey, what's that sound/Everybody look what's going down."
The multigenerational audience clapped to its beat.
By way of introduction, Tingle opened the show with a video of his short and funny commencement address for the Kennedy School, a mix of ideals and autobiography. Tingle spoke of struggling to learn statistics in a tutorial with students from countries at war with one another. "We all helped each other," and adding a nod to his thick Boston accent, added, "we all spoke English as a second language."