Outside the Box Agency's marketing business built around storytelling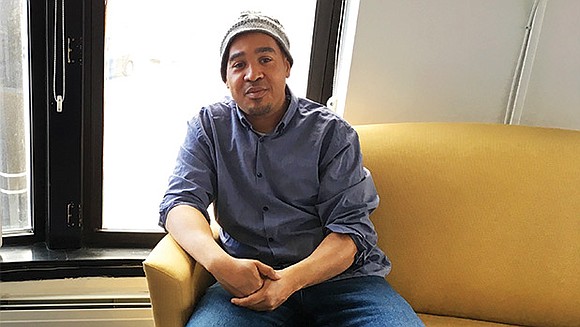 Outside the Box Agency President Justin Springer's path has always been nontraditional, and his entry into entrepreneurship is no exception.
A few years ago, when he was frustrated by a string of unfulfilling jobs and job searches, a friend mentioned Future Boston Alliance, the organization known for championing innovative ideas for Boston, but less known at the time for its new business accelerator program.
Springer thought he was simply signing up for membership in a club focused on Boston happenings and people.
"I filled the form out with all the stuff I'd been working on," he says, speaking with the Banner recently in his light-filled workspace at Fairmount Innovation Lab's new Uphams Corner facility. To his surprise, he received word that he'd been selected for Future Boston's accelerator cohort.
"I didn't have a business yet, but I had always wanted one — this was the push for me to get this going. So I started my business backwards. Just imagine a ski slope, and you've never been skiing, but there's no stopping."
'Finding Mr. Joy'
Outside the Box Agency, which the 38-year-old Springer terms a "creative think tank," offers services from brand management to public relations, but the heart of the work is digital storytelling.
"You have to show people the great things that you do," he says. "A lot of nonprofits tend to present data — but visuals can show their energy, their diversity, their stories."
An important early and continuing client is ArtsEmerson, who has tapped Springer's imagination and community connections to reach a wider audience for its productions, which typically run in downtown Boston venues.
"They hired me to be the bridge to Dorchester, Roxbury, those communities that may not always feel invited," he explains.
Springer was charged in 2015 with spreading the word about ArtsEmerson's production of "Finding Mr. Joy," the story of a Harlem shoe shop owner whose wide-ranging impact on his community isn't understood until he goes missing. Springer jumped on the idea of exploring who Boston's own "Mr. Joys" might be. He solicited ideas from community residents and set to work producing a series of video portraits highlighting the unique personas of longtime community advocate Mel King, the late "Wally" Walcott of Wally's Jazz Club, and Bobby Garnett, owner of Bobby from Boston vintage clothing shop, who passed away in 2016.
"Sometimes it takes a different kind of invitation to start changing people's perceptions of the theater and of downtown spaces," says Nicole Olusanya, special initiatives manager at ArtsEmerson. "Justin's work in creating that video series really helped drive demand. And that demand helped us listen to the community, and realize that this was a piece of art people in the community really want to see."
ArtsEmerson is planning another run of "Mr. Joy" in April, Olusanya noted, this time as a touring production in several Boston neighborhoods.