Proposals are in for city's Roxbury housing competition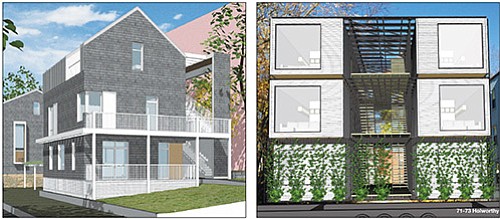 A jury of design experts, city officials and residents of Roxbury's Garrison Trotter sub-neighborhood is evaluating six development proposals submitted as part of a city of Boston pilot Housing Innovation Competition launched last November.
The competition — devised by the City's Department of Neighborhood Development in partnership with the Mayor's Housing Innovation Lab, the Garrison Trotter Neighborhood Association, and the Boston Society of Architects — aims to encourage the creation of compact multifamily rental or ownership housing with a range of affordability.
The available sites are city-owned vacant parcels located in the Garrison Trotter neighborhood at 71–73 Holworthy St., 29–31 Hollander St. and 24 Westminster Ave.
Design for living
Applicants for the competition were encouraged to create options for middle-income and for elderly residents, and several of the proposals emphasize multi-generational living and varied unit types to accommodate lifestyles from singlehood to child-rearing years to older age.
For the Holworthy site, startup company Livelight proposes a version of its tiny urban housing unit, or "uhü," that was prototyped and displayed around Boston for several months in 2016. Livelight's competition proposal is a seven-unit building including three senior-accessible studio units on the ground floor and four two-bedroom units on the second and third floors. The design involves a "superstructure," a grid with slots that accommodates uhü units that would be pre-fabricated in a factory. The firm presents this "plug-and-play" model as a potential model for other parts of Boston and for other cities seeking compact, affordable new housing.
For the Hollander site, Bodrick Development Partners proposes "Doma Homes," a type of triple-decker for 21st-century households. The design is a cluster of varied elements, including a two-bedroom, a one-bedroom and a 360-square-foot micro-unit studio. The renderings show a flexible set of options that could could allow an owner to live in one unit and rent out the others, helping to provide a foothold in home ownership as the city's triple-deckers have traditionally done.
Diverse visions
The remaining four proposals all address the Westminster Avenue site.
DREAM Development proposes a three-story building with 11 condos in a mix of studios, one-bedrooms, and two- and three-bedroom townhouses. The units will be arranged, according to DREAM, to support multi-generational families, for instance by having connecting common hallways between three-bedroom and studio units; units of different sizes could be purchased together, with one functioning as an "in-law" unit for an older family member. Six onsite parking spaces will be available for sale separately from the dwelling units, helping to reduce cost for residents who don't need parking.
Maple Hurst Builders proposes 19 studio apartments, each 450 square feet, in a 3.5-story building with garage parking. The units' size puts them in the micro-unit category, but the firm's rendering poster describes the units as expansive and light-filled nonetheless, and indicates units could be combinable, expanding to 900 square feet for compact two- or three-bedroom configurations.