Governor Baker's budget proposal does little for schools, a lot for healthcare
Provisions to lessen impact of ACA repeal, education funding falls short of improvement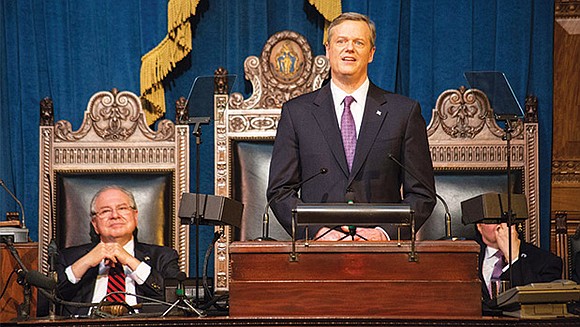 Governor Charlie Baker outlined a budget proposal last week that many said made strides in addressing health care needs under the new presidential administration but fell short of alleviating the budget stress of beleaguered public education institutions.
K-12 education
The budget would increase the districts' elementary and secondary education aid, known as Chapter 70 aid, by about $20 per pupil. This may not make much of a dent: It cost Boston about $18,372 to educate a student in the 2014-2015 school year, the latest data available from the state Department of Elementary and Secondary Education. In comparison, that year Cambridge spent $27,569 per pupil, while the highest-spending district allotted $30,505 per pupil and no district spent less than $10,400 per pupil.
"Our shared commitment to funding local schools has led to an all-time high in Chapter 70 education funding," Baker said.
According to the Massachusetts Budget and Policy Center, Baker's proposal raises Chapter 70 aid only by about 2 percent, roughly enough to match inflation rates, not rising costs. The percent increase is smaller than that given in the past few years' budgets, MassBudget states.
"[This budget] wouldn't allow for significant improvements in class sizes or wraparound services or making sure we have all we need," Noah Berger, MassBudget president, told the Banner.
Sen. Sonia Chang-Diaz has proposed a bill that would increase the state's determination of what counts as a minimally adequate budget for schools, the so-called "foundation budget." Once the state calculates the foundation budget, it supplies a portion, requires a municipal contribution based on perceived local ability to pay, then makes up the difference. Chang-Diaz co-chaired a bipartisan review committee that in 2015 announced that the state's budgeting estimates understated costs incurred by schools by about $1 billion a year. In part the shortfall is due to rising employee health benefit costs and a trend of underestimating the level of special education spending needed, the committee said.
"When you factor in inflation, the governor's proposal would put us 5.5 percent below funding levels from 15 years ago," Chang-Diaz said in a statement to the Banner. "A bipartisan, state-commissioned panel — that included appointees from his administration — unanimously declared last session that we are falling over $1 billion short on our commitment to public education every year. Instead of addressing it in a meaningful way, the Governor has kicked the can down the road one more year."
Early education
Both MassBudget and the Massachusetts Taxpayers Foundation say that the Baker's proposed 0.1 percent increase in early education funding is unlikely to affect waitlists for subsidized childcare, which MTF estimates at 30,000 children.
Higher education
Students at the state's public colleges and universities increasingly are burdened by debt, according to a recent MassBudget report. As state support has declined, campuses have made up the difference in part by hiking mandatory student fees. Since 2001, the number of students taking out loans to attend four-year public colleges in Massachusetts increased by 39 percent and their cumulative amount of debt was 55 percent higher, according to the MassBudget report.