Boston rallies in Copley, Logan against Trump's immigrant ban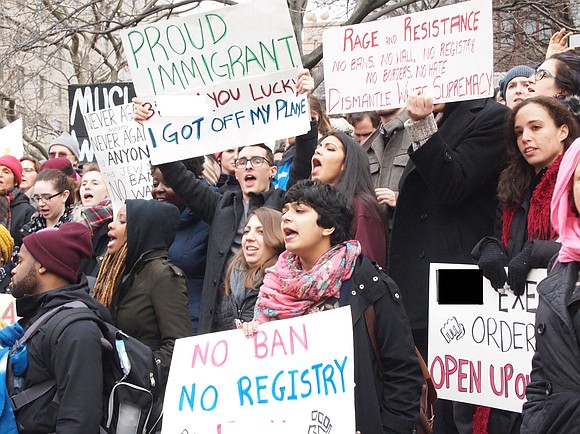 Last Friday, President Donald Trump issued a sweeping executive order to temporarily suspend the nation's refugee program and bar refugees and immigrants from seven predominantly Muslim countries from entering the country. Boston quickly rose to answer. Over the weekend, protesters turned out to decry the immigration order, which would return refugees to danger and detain green card and visa holders, leaving them waiting to learn if their lives in America would be unraveled.
The immigration order triggered protests and court cases across the country. Thousands of demonstrators filled Copley Square Sunday afternoon in solidarity with immigrants and Muslims. Protesters objected to a presidential administration that appears eager to demonize Muslims and Middle Eastern immigrants, and said they sought to protect human rights and their communities. Some drew parallels to Jewish refugees who were denied entry during the Holocaust. Others expressed concern about the executive order's tone, which they considered fascist and dictatorial.
Adnai Mendez, who emigrated from Cuba 11 years ago, rallied with his wife and their seven-year-old son. Trump's ban includes turning away people who already have spent years being vetted by the CIA and the U.S. government, Mendez said. Had that happened to him, the effect would have been "devastating," he told the Banner. He said he feared as well that Trump's attempts to silence the media mirrors the path forged by many oppressive regimes.
"It is essential we take a stand against hatred and bigotry," said Adnai's wife, Melanie Mendez, who teaches in an English as a second language program.
John Robbin, executive director of the Council on American Islamic Relations (CAIR), which organized the protest, said organizers expected a few thousand attendees — far fewer than the approximately 25,000 who overflowed Copley Square.
The Copley rally followed a protest at Logan Airport Saturday night — a scene reenacted at airports across the country.
Boston was the locale for several other protest actions last week as well, including a downtown rally last Thursday against Trump's moves to enact campaign promises to construct a border wall between the U.S. and Mexico. Thursday's demonstrators promised to keep Boston safe for immigrants and their families, and the rally drew speeches from immigrant rights and labor groups, Boston clergy, and state, city and local elected officials.
"We are not agents of ICE," Boston police Superintendent-in-Chief William Gross told Thursday's crowd, referring to federal Immigration and Customs Enforcement, and prompting cheers.
City Councilor Ayanna Pressley said the Women's March of the prior weekend was not an isolated event, but the beginning of a new era. The following days seemed to prove her right.
"That was not just a march," Pressley said. "We are ushering a new movement."
Executive order
The immigration ban took effect immediately upon Trumps' signing, throwing airports and government officials into turmoil. Passengers were barred from flights to the U.S., while customs and border control agents, caught unaware, tried to figure out what to do. The executive order bans all refugee admission for 120 days, Syrian refugee admission for an indefinite period of time and put a 90-day ban on travel from Iran, Iraq, Libya, Somalia, Syria, Sudan and Yemen. Immigrant residents returning from funerals, family visits, conferences and other foreign destinations were detained at airports.