Gospel choir thrills with Christmas concert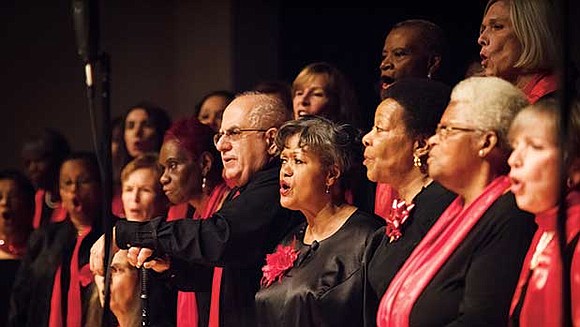 The New England Conservatory Millennium Gospel Choir performed its 11th annual Christmas concert at the Museum of Fine Arts, Boston last weekend, with two sold-out shows on Friday night and Saturday afternoon.

Demonstrating the individual and collective power of gospel musicians to elevate the spirit and thrill the senses, the choir delivered a goosebump-inducing program of 12 songs. Their program showed also the variety within this ever-new tradition and its symbiosis with other African-American veins of music, including jazz, R&B and soul.
Created in 2000 through the New England Conservatory's Community Collaborations Program to celebrate the new millennium, the choir is in its 17th year.
The excitement began as soon as the 63-member chorus streamed onto the stage, clapping, swaying and singing as they formed three rows. They were uniformly attired in black, the men's outfits accented with red ties and the women's with red scarves. Meanwhile, a group of young women, also dressed in black, ascended an outer aisle to the rear of the auditorium, where they awaited their turn as guest performers.
Musicians and conductors
Joining the choir were its able, long-serving musicians, a trio of Berklee alumni: drummer Jamal Shoffner, keyboardist David Langford and brother Gerald Langford on bass.

Among the choir's conductors were its administrative coordinator, Deborah Grant-Fair, and Rebecca Kenneally, chair of performing arts and choir director at Endicott College.
Appearing as both pianists and conductors were David F. Coleman, choral music director at Dana Hall School, director of the Tufts University Gospel Choir and minister of music at Greater Framingham Community Church; Jonathan Singleton, Berklee assistant professor of ensembles and musical director of the Twelfth Baptist Church; and two of the choir's co-founders, Herbert S. Jones and Donnell L. Patterson. Jones is director of the Boston University Inner Strength Gospel Choir; Paterson is minister of music at St. Paul A.M.E. Church, director of music at Belmont Hill School, former chair of gospel music at New England Conservatory and the evening's emcee.
Grant-Fair conducted the first song, "We Sing Praises," with Coleman on the piano. A small and slender woman, she used her whole body to channel the choir's voices into an oceanic roar. With their hands clapping and bodies swaying, they summoned the audience into their surge of joy.
Next, Herbert S. Jones led the choir, with Singleton on piano, as they swayed slowly and sang his composition, "The Living Word of God." With each repetition of its chorus, "Let the word of the Lord dwell in your heart," their rendering deepened in momentum.
Instilling a fresh round of goosebumps, Kenneally led the choir in "You Oughta Know" by Joseph Joubert, with Patterson on piano. Suzanne Buell delivered its solo with authority. Through its repeating refrain, she informed her audience that for the parents of Jesus there was "no room in the inn."

Patterson conducted the fourth song, "Magnify," by Teresa Hairston, with Jones at the piano. Elegant solos by Carolyn Saxon and Vicki Zelski lent intimate power to the performance, while Patterson led the entire chorus into a majestic crescendo that whipped all into a state of soaring joy.