Media, mayor put focus on race in Hub
Globe series, race dialogue bring up issues of inclusion
Yawu Miller | 12/20/2017, 9:31 a.m.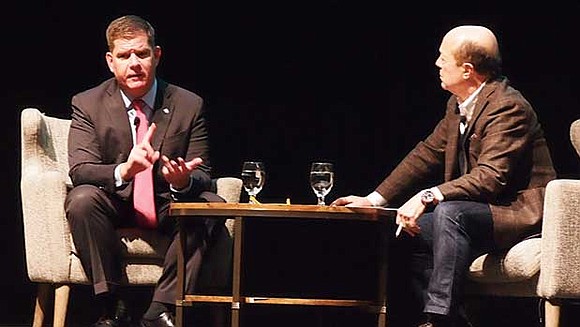 Capping a week in which racism in Boston took center stage, with the Boston Globe's seven-part series on the topic dominating conversations, Mayor Martin Walsh held his second annual Boston Talks About Racism event at Northeastern University.
The opening of the Dec. 15 event underscored the difficulties and contradictions in Boston's attempts to grapple with the divisive issue. At the precise moment Boston Police Commissioner William Evans spoke in a city-produced video about how his department is "focusing on equity in police work more than ever before," members of the Massachusetts Association of Minority Law Enforcement Officers were speaking outside to reporters about what they described as systemic racism in the department.
Outside Blackman Auditorium, activist Kevin Peterson led the press conference organized by a group called Boston Communities United, slamming the mayor for an underrepresentation of people of color in well-paying jobs in the Boston Public Schools and in the police and fire departments. Peterson said the mayor refused to meet with his group or respond to its list of demands for improvements to the city's response to civil rights issues.
"We are flummoxed as to why the mayor, who purports to lead the city on racial equity issues, has refused to address our issues," he said.
Inside, in the city's video, Walsh underscored his administration's commitment to equity. "The drive for equity doesn't just live in my office," he said in the video. "It's in every department."
Walsh kicked off the question-and-answer session by acknowledging the Globe's series on racism.
"What the Globe story did this week, whether people like it or didn't like it — it sparked conversation," he said. "And that conversation is important to have."
Walsh noted that the conversation on race became a centerpiece of the 2013 mayoral race after he was confronted by a woman during a forum and was unable to adequately respond to a question on racism.
After winning the 2013 election, Walsh put together a cabinet that included people of color in high-profile positions, although few people of color lead large departments with sizeable staffs or budgets. According to City Hall sources, Walsh's closest advisers are the five members of his senior staff, which includes no people of color.
During the forum, Walsh said people of color in his administration are "not afraid to come to me and say, 'you handled that wrong.'" He said he has spoken to officials in his administration, including Conan Harris, who leads the city's My Brother's Keeper initiative, and Boston Centers for Youth and Families Commissioner Will Morales about their experiences growing up as people of color in Boston.
Questions on city policies
Audience members questioned the mayor on a wide range of topics, including his administration's decision to change start times for many elementary schools to 7:15 and 7:30, which Aveann Bridgemohan likened to "balancing the budget on the backs of 4-year-olds."
Walsh responded saying the changes would save money in the schools' transportation budget and said the changes would bring more equity to the system.