Parents flood School Committee meeting, urge rollback of start time change
Karen Morales | 12/14/2017, 11:31 a.m.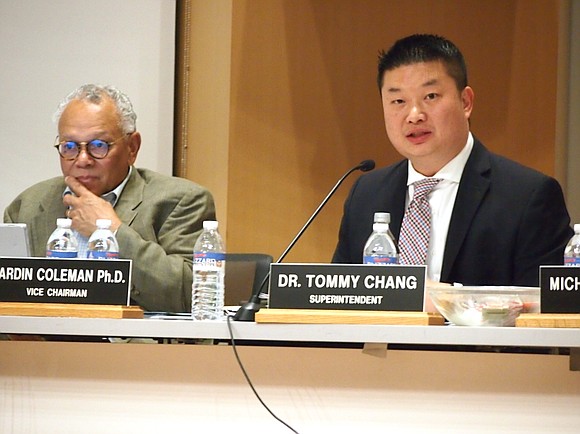 Elementary school parents flooded last night's School Committee meeting, speaking against next year's 7:15 a.m. start time and 1:15 p.m. end time for many elementary schools. Dozens of parents urged the School Committee to scrap the planned changes during the public comment period of the meeting which lasted over five hours.
Outrage over the changes began almost immediately after the schedule was published on the BPS website last Thursday with parents calling and writing elected officials and more than 7,700 signing an online petition against the changes.
The School Committee stuck by their decision during the meeting, although by the end of the contentious public comment period, Chang said they had a lot to reflect and think about and would continue receiving feedback in ongoing community meetings.
The district's stated goal in changing bell times is to increase the number of high school students starting class after 8 a.m. and decrease the number of elementary students dismissed after 4 p.m. District officials set out to reach these goals all the while increasing parity between students of different race, ethnicity, socioeconomic status, and special education.
The new schedule was one scenario out of more than 30,000 generated by an algorithm developed by MIT researchers.
Chang said the start times for K - 6 will be more equally distributed among race lines.
"We did this to close the achievement gap and create an environment that ensures every students' success," he said. "Next year the start times will be more racially balanced."
In a School Bell Times Equity Impact Report put together by senior equity manager Steven Chen, chief operations John Hanlon, and assistant superintendent of equity Becky Shuster, the district found that in the current start time system, 31 percent of black K - 6 students and 27 percent of Hispanic K - 6 students start school before 8 a.m., compared to 10 percent of white K - 6 students. With the new system, the percentage of black, white, Hispanic and Asian K - 6 students that start school before 8 a.m. are 44, 48, 49, and 39 percent, respectively.
But Matt Cregor, education director for the Lawyers' Committee for Civil Rights, said the equity of the new plan does little to blunt the impact of the early start times.
"BPS' proposed change would move more than two-thirds of all black, Latino, Asian, and white elementary students into disfavored start times — before 8 and after 9 a.m.," he told the Banner. "'Equity' is simply no justification for a harmful policy change, even if it harms equally."
Scheduling practices and their effects on race were absent from previous equity reports, said Chang.

Another factor that influenced the new policy was the school district's transportation system.
"Our transportation system currently costs us more than $110 million a year," said Chang.
"And the School Committee has asked us — and rightfully so — to find ways to be more efficient with transportation so we can reinvest in schools," he said.
According to the BPS website's start times FAQ page, eliminating start times before 7:30 would cost as much as $7 million — a .6 percent bump in the district's $1.08 billion budget.