UMass Boston staff protest layoffs
Demand relief for cash-strapped campus
Karen Morales | 12/6/2017, 10:21 a.m.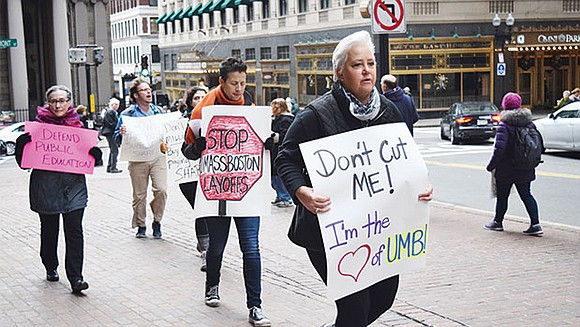 Staff union members and students at UMass Boston continue to push back on budget cuts that have affected employees, academic programs and support services and are urging the Board of Trustees to follow an alternative plan.
To close a $30 million structural budget deficit linked to campus construction projects, UMass Boston laid-off 36 staff employees from various departments, and cut back work hours for seven others.
Some of the employees let go had been with the school for more than 30 years.
According to a statement released by UMass Boston, these budget-cutting steps totaled a savings of $3 million.
At a Nov. 29 Board of Trustees meeting at One Beacon Street, student leaders and members of the Professional Staff Union, the Classified Staff Union and the Faculty Staff Union asked the board to take $5 million of the $96 million unrestricted UMass central reserve funds to keep programs staffed. They also implored that the board contest persistent state underfunding and publicly support the Fair Share Amendment.
Passage of the Fair Share Amendment, which will appear on the 2018 ballot, would place a four percent tax on income above $1 million and generate $2 billion annually for public education and transportation.
UMass Boston students Madeline Walker and Juan Blanco presented their personal testimonies on how the school's actions have weakened academic programs and diminished student services.
Walker, a sophomore and student organizer for the UMass Boston chapter of the Public Higher Education Network of Massachusetts, said that despite her near-perfect grades, she lost her financial aid for the current school year and found herself working two jobs in an attempt to pay substantially more for her education.
She added, "Class sizes are growing but we're expected to make the same connections and receive the same attention from our professors."
Blanco, a graduate student and UMass Boston undergrad alumnus, said that although he had a high GPA, glowing recommendations, and awards, "My decision to continue my education came down to whether or not I would be able to afford it."
Student stories
As a first-generation college student and former undocumented immigrant, Blanco said his background embodies the school's urban mission. "My story is reflected by a large number of students, so I'm definitely not an anomaly. Our stories make the university," he said.
Anneta Argyres, director of the Labor Extension Program at UMass Boston's Labor Resource Center said that the UMass Boston Early Learning Center, where many students were able to receive childcare while they were in school, issued layoff notices this past summer.
"All workers are being laid off on Dec.29 and the center will be closed," she said.
In addition, "Advisors are now taking on more students than before in the College of Science and Math," said Argyres. "Now there are 1,200 students per advisor, when the industry standard is 300 students per advisor."
In a Nov. 17 message to the community, UMass Boston interim Chancellor Barry Mills said, "I believe we were required to take this week's step in order to gain the financial strength and stability needed to serve our students, faculty and staff — and to move forward in the years ahead with confidence."