Dream Development wins city's Housing Innovation Competition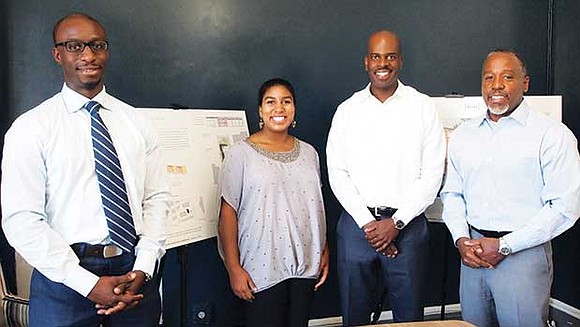 Dream Development won attention — and the right to develop a city-owned parcel — thanks to its innovative housing design. The newly-formed, black-owned development team beat out nearly a half-dozen competitors for the opportunity to build on 24 Westminster Avenue in Roxbury. One compelling feature that helped turn the tides in Dream Development's favor is that the design plan is suited to accommodate changing family sizes, giving residents the ability to reconfigure their units as they have children, and reconfigure again once the children leave the nest or should older in-laws wish to move in. The team's design is also easily shrinkable or scalable, allowing it to be replicated on parcels of varying sizes.
A jury of community members, architects, contractors, city planners and other officials selected Dream Development as the winner of its first-ever Housing Innovation Competition, which is aimed at pioneering ways of reducing building costs to make more units of housing available to middle-income and elderly residents.
The Dream Development team includes Gregory Minott of Dream Collaborative, a minority-owned architecture firm, as well as Saeed Coats of GPC Companies, Greg Janey of Janey Construction and Cheis Garrus, real estate development advisor. According to the team's project summary, they plan to engage minority- and women-owned businesses for more than 50 percent of the sub-contracting and to exceed Boston Resident Jobs Policy requirements. Having convened a team with a broad array of development expertise early in the planning and idea development process was an important asset, Minott said during a meeting between the development team, city officials, and the Banner.
Winning design
Competition managers challenged designers to present innovative housing models balancing comfortable living with affordable prices. Of particular interest was use of so-called compact units — smaller than standard units that allow more to be fit on a parcel. Dream Development beat out five other teams with a plan that was praised for suiting the needs of various generations of a family.
Dream's design contains 11 units, including three one-bedrooms, four two-bedrooms, three three-bedrooms and one studio. Ten units will be market-rate condos and one homeownership unit will be priced for those making up to 100 percent of Area Median Income.
Eliza Williams, a member of the Garrison Trotter Neighborhood Association's housing committee, said community members had several strong wants: allocated parking spaces, homeownership options and no micro-apartments. The Dream Collaborative design was one of the few submitted that included parking, she said, with its provision of six spaces for the 11 unit site. The housing is all ownership, with units that are compact, but larger than micro to make the space comfortable, Minott said. Unit sizing ranges from about 500 square feet to about 1,000 square feet, he said. Parking spaces will be sold separately at $10,000 each, to reduce costs on residents not needing them, according to site plans.

Developers expect to get city approvals and permitting finished by spring of 2018, after which they could begin construction that spring or summer, according to Minott. He anticipates a 10-month construction period. The total project cost is $2.55 million, with land comprising about $115,000 of that figure, state plans.