Can Boston build a way out of the housing crisis?
Walsh focuses on building enough units to soften demand, others call for new tactics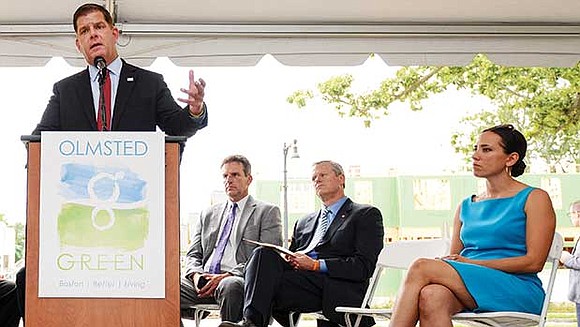 There's little dispute that Boston faces a housing crisis with rents and housing prices beyond the reach of many of the city's current residents. Mayor Martin Walsh has been pursuing a strategy of increasing housing production to meet growing need, while City Councilor Tito Jackson, who is challenging Walsh for the mayor's office, says the city's strategy falls short of meeting the growing demand for affordable options.
The problem
The problems are many: the city's population is growing, pushing up rents and the cost of homes. Well-heeled professionals flock to the city, snapping up units. Longtime residents who cannot keep up with rising rents are pushed out. Students spill out into neighborhoods where they pay per head, driving up rents in Mission Hill, Allston and, increasingly, Roxbury. Luxury buildings proliferate in the city, sparking fears among some tenants as they see rents rise at a faster pace than wages.
According to the city's recently released Imagine Boston report, more than 21 percent of the city's renters spend over half their income on housing. At any given time, roughly 40,000 residents are on the waitlist for Section 8 public housing, according to Imagine Boston. Moreover, citywide median housing costs rose by 36 percent between 2010 — the end of the Great Recession — and 2015, and by even more in some outer neighborhoods. Housing costs shot up 38 percent in Dorchester, 43 percent in Chinatown, 50 percent in Mattapan and 70 percent in Roxbury, states the report.
Building a way out
In 2014, Mayor Walsh's administration highlighted the need to tackle rising housing costs and demand, with the release of its Housing a Changing City report, which stated plans to increase overall housing stock by 2030. To date, the administration's main strategy remains constructing enough units — both affordable and market-rate — that demand slackens and prices dip.
Thus far, there are hints of success — between 2014 and 2016, 12,001 new units of housing were created in Boston as a whole, answered by a decline of rents in by 4 percent on citywide average between 2014-2015, according to city data. Individual neighborhoods have experienced different levels of rent changes.
In an August NorthEndWaterfront.com column, Walsh wrote that his administration facilitated completion of 13,000 units thus far, of which about 1,380 are affordable and 2,000 are restricted to prices attainable by middle-income households.

Initiatives and receptions
To underpin its build-our-way-out strategy, the Walsh administration inventoried public land and identified those viable for housing development. In many neighborhoods, the administration increased the amount of off-site affordable housing that private firms must create if they build on city-owned land or seek zoning exemptions, as well as increased the alternative requirement pay-out amounts, under its updates to the inclusionary development policy. Thus far, less than 1 percent of affordable units constructed by developers since that policy's creation in 2000 have been in Roxbury, but with developers increasingly eyeing Roxbury, that could change. In a Banner phone interview, Tito Jackson asserted that, if elected, he would sharply increase affordable on-site unit count requirements and that Cambridge has successfully done so without deterring developers.