George Lopez entertains troops overseas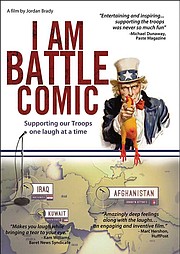 George Lopez's multi-faceted career has encompassed standup comedy, TV series, feature films, hosting and guest appearances on television. For two seasons, he starred on TBS' "Lopez Tonight," a late-night television talk show.
Previously, he co-created, wrote, produced and starred in the groundbreaking sitcom "George Lopez," which enjoyed a six-season run on ABC. The series remains a hit with viewers, in syndication both on broadcast stations and cable's Nick at Nite.
In 2006, George received a star on the Hollywood Walk of Fame. In addition, Time magazine has named him one of the 25 Most Influential Hispanics in America.
Here, he talks about his new movie, "I Am Battle Comic," a concert film about a tour he and 13 other comedians took overseas to entertain troops stationed in Iraq, Afghanistan, Kuwait and Bahrain.
What interested you in "I Am Battle Comic"? I don't remember ever crying so much while watching a standup comedy film. It was really moving.
George Lopez: That project is amazing. I've known [co-star] Don Barnhart forever, and Bob Kubota, Jordan Brady and all those other comedians, a long, long time, too. In the movie, they talk about Bob not being successful after almost 30 years in the business. But you know what? If you're going to war zones to entertain the troops, you are successful. The culture may put a superficial value on celebrity, and associate success with fame. But success really has much more to do with your character and behavior beyond the limelight. It's not only successful, but honorable, for those guys to go over there to entertain the troops in such dangerous conditions.
How do you tweak your standup act when performing for G.I.'s?
GL: It has to be clean, and there are certain subjects you need to avoid, like jokes complaining about how hard your own life is, because their lives are at risk 24/7. But it's pretty easy to make the adjustment. Normally, the number one worry of any standup comedian is, "How am I going to do?" But that doesn't matter when you're performing on a military base in a war zone. Your just showing up is greatly appreciated. That's an unspoken standing ovation. Since I had the TV shows, I've been getting a lot of letters from soldiers asking for autographed pictures or this and that. And I've always sent stuff to them. So, when I show up in person, they can't believe I'm there, and they're so appreciative of that, that there's no need to worry about how much I make them laugh.
Has there been any soldier you really connected with?
GL: Sure. One from years ago was a corporal serving in Afghanistan, named David Wheat. He'd been burned over 90 percent of his body after being ejected from a tank and landing in a pool of fuel. I went to visit him while he was recuperating in the hospital. He was burned worse than anyone I've ever seen. I gave him my email and we've stayed in touch ever since.