Advocates rally against housing budget cuts
Trump, Republican-led Congress put forward plans for deep budget cuts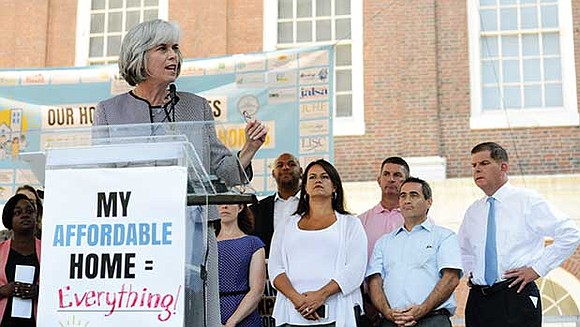 Hundreds of housing advocates from Boston and across the state gathered near Faneuil Hall last week to protest budget cuts proposed by President Trump especially, and Congress to a lesser degree, that would decimate funding for many key housing-related programs.
Speakers at the July 31 rally included U.S. Representative Katherine Clark, Mayor Marty Walsh, leaders of housing-focused nonprofits and ordinary residents who spoke of their struggles to attain or keep secure and permanent housing.
Programs hanging in the balance as the federal budget process for Fiscal Year 2018 plows unsteadily forward include public housing, Section 8 housing choice vouchers, the Choice Neighborhoods program, Community Development Block Grants (CDBG), which help cities fund housing, community, and economic development projects that assist low and moderate-income residents, and the HOME Investment Partnership (HOME) program that assists in development and preservation of affordable housing.
"We have an administration that needs to be reminded every single day that our economy only works when everyone has a chance to participate," said Clark, a Democrat who represents a swath of communities north and west of Boston. "When you see the cuts ... they're not only cruel and callous, but they pose a threat to our economic future and the future of our children and grandchildren."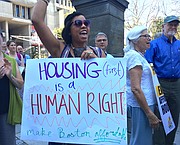 Drastic housing budget cuts, she said, represent "a recipe for public housing to fall into disrepair and shutter, for our homeless population to increase, and a skyrocketing burden on our already-strapped emergency shelter system."
Walsh called on the federal government to cut through partisanship and help cities help their residents.
"We need Washington to understand the impacts of HUD cutting money back on poor people," he said. "It's not a Democratic and Republican issue. It's an American issue. ... Our city and our region rely on support from our federal partners. We need stable affordable housing or all families, and it's time to move forward and do even more."
The event was part of a national week of action promoted by the National Low Income Housing Coalition to protest the Trump budget and demand that Congress allocate sufficient funding to programs that provide housing and anti-homelessness support.
The local rally was organized by Citizens' Housing and Planning Association (CHAPA), a statewide nonprofit umbrella organization for affordable housing and community development activities.
Rachel Heller, CHAPA's executive director, told the crowd the budget proposals coming out of Congress are better than expected, and certainly better than what the president proposed.
"So it's a 'yay' and a 'boo,'" she said.
But more investment is needed, she said. She noted that more than 85 percent of HUD's current budget goes to renewing housing assistance for people already in their homes.
"So when HUD's resources are cut, or don't grow with increasing costs," she said, "it threatens the stability that millions of people have achieved with the help of rental assistance — never mind the more than 100,000 people in Massachusetts who are on Section 8 wait lists right now. How long will they have to wait to get the help they need?"