U.S. attorney investigates Boston Trial Court
Federal attorneys may examine claims of harassment, racial discrimination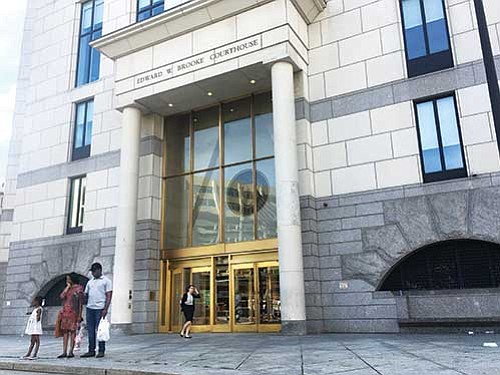 Under fire from widespread allegations of racial discrimination, the Suffolk County Trial Court is now under investigation by the U.S. Attorney's Office, according to two sources with knowledge of the case.
The Trial Court came under scrutiny in February, after former Court Administrator Harry Spence suspended Suffolk County Register of Probate Felix D. Arroyo.Arroyo's supporters say the move came in response to his efforts to hire more people of color and better accommodate the predominantly immigrant population the Suffolk Probate Court serves.
Since then, more court employees and others have spoken out against what many say is an environment of racial harassment and employment discrimination.
In June, the Lawyers' Committee for Civil Rights and Economic Justice sent a letter to the Trial Court, calling for action and detailing allegations that included mockery based on race or accented English speech, lack of investigation of reports of race-based incidents, and white supervisors subjecting minority employees to more menial work and disparately severe discipline.
"[There is a] toxic racially-charged hostile environment that fosters identity-based harassment," Oren Sellstrom of the Lawyers' Committee wrote in the June letter.
Data from the Massachusetts Commission Against Discrimination seem to bear out the allegations of a troubled climate. Since 2012, the agency has received 72 complaints of discrimination against the Trial Court, according to H Harrison, assistant to the commissioner of MCAD. Of these, 32 cases remain open. The closed complaints ranged across allegations of discrimination on the basis of race, gender, nationality, age, disability and other aspects.
According to Sellstrom, women of color in the state's Trial Court department are underrepresented both in supervisory positions and overall employment numbers: Approximately 6.7 percent of court officers employed in the state are women of color. Since 2011, the portion of managerial Security Department roles held by women of color has hovered around 4 percent. In 2016, the Lawyers' Committee sued the Trial Court to compel it to publicly release such diversity data.
Commenting on the MCAD complaints tally, Sellstrom said the number is unusually high, yet not surprising given the employee accounts heard by the Lawyers' Committee.
"We do believe the problem is systemic," he said.
Trial Court response: Improved hiring
On July 25, Jonathan Williams, the new Trial Court administrator hired in March after Spence's five-year term ended, replied to the Lawyers' Committee with a letter in which he acknowledged awareness of the low levels of diversity and stated that there are ongoing efforts to remedy this. Williams highlighted attempts to improve diversity of applicants, push bias training and establish departmental committees focused on diversity and race and implicit bias within the organization. He also said that low representation of women is an issue for such law enforcement-type organizations nationwide.
For the Massachusetts Trial Court, disparities emerge in the initial applicant pool, Williams said: In 2015, 73 percent of entrance exam takers were male. Trial Court officials' attempts to change this include a focus on increasing public advertisement of positions and targeted recruitment efforts. As the organization seeks to move out of the specter of past patronage hiring, strategies include promoting post-graduation employment opportunities to local law schools. During the past few years representatives of the Probate and Family Court have discussed job opportunities at a number of colleges, including Roxbury Community College. Other partnerships aim to support the entrance of students of color into the legal profession, including efforts to engage them in legal internships or promote law as a course of study.