Advocates call for bill to increase state education aid, fix cost estimates
Legislators are trying once again to update decades-old foundation budget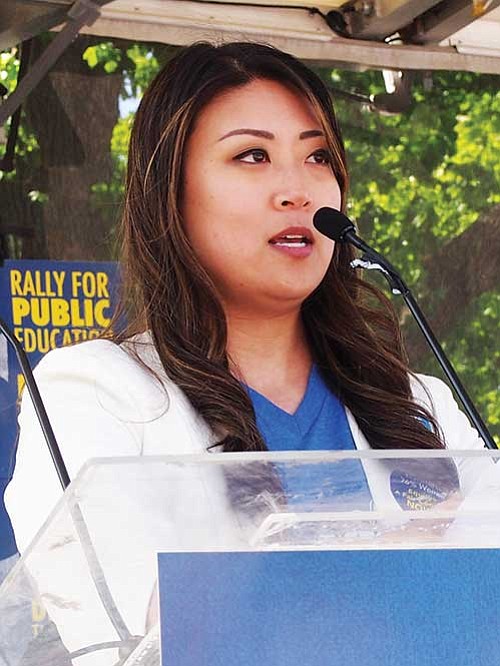 The third time may be the charm: Legislation designed to infuse new dollars into public school districts was passed by the Senate twice last year, but never implemented. Now advocates are trying again to push through a bill that could fix the financial woes of Boston Public Schools and other districts by updating the formula that the state uses to determine minimally adequate school budgets — which also impacts how much the state contributes
Jessica Tang, Boston Teachers Union president, was among those who spoke in favor of the bill at a State House hearing last week.
"The decline of state funding in Boston has had a hugely detrimental impact on our ability to serve many of the state's neediest and most vulnerable students," Tang said. A Trump White House further jeopardizes school budgets, with sizable slashes expected in federal education funding for states and cities.

The bill in question is An Act Modernizing the Foundation Budget for the 21st Century. In 2015, a bipartisan review commission, chaired by bill sponsor Sen. Sonia Chang-Diaz, reported that the foundation budget had not been updated since 1993 and failed to anticipate the costs of modern schooling.
The Foundation Budget Review Commission determined that these foundation budget calculations underestimate the actual costs of educating English Language Learners and students living in poverty and fail to account for the rising costs of health care and special education. The overall impact: Public education is underfunded by $1 billion to $2 billion per year, according to FBRC findings.
Supporters at the State House included legislators and parents as well as teachers union and education reform group representatives, which Sen. Sonia Chang-Diaz said is a promising sign.
"The consensus shown today in support of fixing the FBRC is unprecedented," Chang-Diaz said. "It's not every day you see the Boston Teachers Union, the Boston Superintendent's office and Boston School Committee on the same side of the table, let alone Democrats for Education Reform and the teachers unions."
Dissenters include Jim Stergios, executive director of the Pioneer Institute, who told the Boston Herald that he does not accept the FBRC's estimates on the size of rising health care costs and that measures to increase school funding must be paired with measures that change spending patterns.
"Money without reforms is meaningless," Stergios said. "The commission's findings were skewed by its composition and especially by assumptions the commission made concerning the management of health care costs and other issues."
View from the top
Governor Charlie Baker's education budget this year incorporates some FBRC recommendations by increasing school healthcare funding.
"Governor Baker was pleased to sign a balanced budget that funds aid for local schools at a historic high of over $4.7 billion, including a $25 million increase toward school healthcare costs amounting to the broadest expansion of the Foundation Budget since its adoption nearly 25 years," said Billy Pittman, Baker's press secretary, in a statement.
Chang-Diaz said that while Baker's budget indicates awareness of the need to adjust spending to meet unanticipated education costs, it addresses them more slowly than the proposed foundation budget bill would do.