'Matisse in the Studio' MFA exhibit focuses on artist's 'working library' of artifacts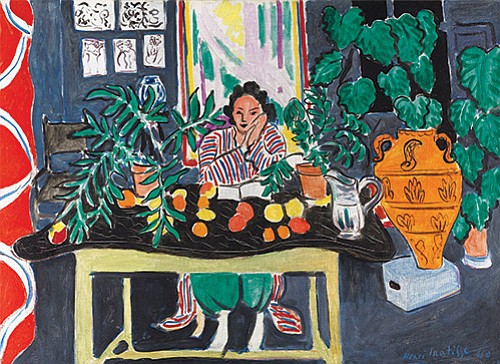 Like alchemists working in labs to turn everyday matter into magical elixirs, artists frequent their studios to go about their business of transformation. Take French modernist Henri Matisse (1869-1954), who wanted nothing less than to invest his works with a life of their own.
One of the great painter-sculptors of the twentieth century, Matisse was not content to reproduce what the eye can see. Instead he worked to render the essence of his subjects.
"Matisse in the Studio," the fascinating exhibition on view through July 9 at the Museum of Fine Arts Boston, explores the artist through his life-long relationship with a collection of objects — mainly African, Islamic and Asian artifacts. He bought them in flea markets and curio shops and from antique dealers who trafficked in booty from Europe's colonies in the Middle East, Asia and North, Central and West Africa. He also purchased such objects on his travels to Algeria and Morocco, and in Spain, where he explored the country's Islamic architecture.
These objects formed what Matisse described as "a working library," a portable studio that fed his imagination and growth as an artist. His collection moved with him to his successive homes, first in Paris; then in Nice, on the French Riviera; and from 1943 to 1948, in the mountain town of Vence, where he waited out the war before returning to Nice.
The exhibition presents 40 of these objects alongside 70 works by Matisse from all stages of his career, including paintings, sculptures, cutouts and drawings. Many are on public view for the first time outside of France.
The MFA is the only U.S. venue for the show, which will travel to the Royal Academy of Arts in London from August 5 to November 12. Organized by the MFA and the Royal Academy in partnership with the Musée Matisse in Nice, the exhibition is accompanied by a lustrous catalog with essays by renowned Matisse scholars, including the show's curators: Helen Burnham, of the MFA; Ellen McBreen of Wheaton College; and Ann Dumas of the Royal Academy.
The object
Beguiling from the start, the show begins in the first gallery with a prelude. On view is an Andalusian glass vase Matisse bought in Spain in 1910. Surrounding it are two paintings in which the vase plays a starring role. In one, "Vase of Flowers" (1924), the light shimmers through the vase. In the other, painted a year later, its surface is rendered in opaque patches of paint.
Nearby is a wall-size reproduction of a photograph showing about 20 of Matisse's objects, including the vase, arranged in rows like a family portrait. Sending the photograph to a friend in 1946, Matisse wrote on the back, "Objects which have been of use to me all my life."
The first of the exhibition's five sections, entitled "The Object is an Actor," shows how Matisse regarded his objects as a cast, with roles that change within each composition. "A good actor can have a part in ten different plays," he said in 1951, "and an object can play a role in then different pictures." A pewter jug stands out in the alluring "Vase of Anemones" (1918), its shimmering, spoon-like shape echoed in a small vase by its side. In another painting, it appears in silhouette, on a wall.