Isabella Stewart Gardner Rise Concert Series features Ysaye Barnwell and Esperanza Spalding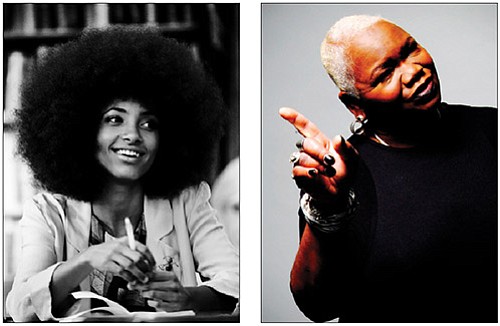 A century ago, Isabella Stewart Gardner hosted salon-style musical soirees in her Venetian palazzo on the Fenway. Her tradition continues with the Isabella Stewart Gardner Museum's RISE series of pop, rock and hip-hop concerts. Last Wednesday's RISE concert featured two musical guests of worldwide acclaim: Ysaye Barnwell, co-founder of the iconic African American a cappella ensemble Sweet Honey in the Rock, and four-time Grammy Award-winning bassist and vocalist Esperanza Spalding.

The sold-out show was rescheduled from February 9, when it was cancelled due to a blizzard. Nevertheless, that weekend, while the city was still digging out, Barnwell led one of her renowned community sings at the Gardner, conducting a capacity audience in choral renderings of African American songs and chants.
RISE concerts are held in Calderwood Hall, a sleek cube-shaped space designed by Renzo Piano as part the museum's new wing, which opened in 2012. On the first level, the audience surrounds performers on three sides, and behind them, pastel lights play on the walls. On upper levels, audience seating on all four sides overlooks the performers.
Wednesday's two-hour program opened with a brief spoken word and dance performance by poet Askia M. Touré and dancer Wyoma, presented by Northeastern University's African American Master Artists-in-Residence Program. Dashiki-clad Touré stepped into the center of the room and read his poem, "Wind Chant: A Diva," an homage to the earth, as Wyoma, butterfly-like in a diaphanous rose-colored costume, whirled and somersaulted to the cadence of his voice.

Next came Boston-based soul and R&B funk group, A-Beez, a deservedly popular house band at venerable jazz pub Wally's, in Boston's South End. Pianist Amy Bellamy and her husband Aaron, a bassist, performed with Matt Williams on drums, guitarist Wayne Jones and vocalist Mellisa Bolling.

The ensemble took immediate command of the space with an irresistible, funky groove that proved to be merely its starting point. Swinging, danceable and eminently listenable, they began with two compositions by Amy Bellamy and then delivered inventive versions of two pop songs, the iconic "Smells Like Teen Spirit," by Nirvana, and "Crazy in Love," a hit by Beyoncé.
Attired in black lace, Bolling enjoyed a fine interplay with the band, including extended passages of give-and-take with Bellamy on piano, her voice shifting as each song warranted from a slow, chugging beat to melodic flights and gospel-inflected trills. As she belted, "I think I know why I'm feelin' so high," so did her audience. Pianist Bellamy opened the Nirvana classic with an introspective solo and then led a rich exploration of its dirge-like and lyrical qualities. As the band descended into a passage of propulsive fury, Bolling's voice ascended into a high-pitched scat before returning, with the ensemble, to the song's closing refrain.
After a brief intermission, Barnwell and Spalding took over, backed by Brazilian percussionist Nêgah Santos, Berklee '17, versatile and precise on her assortment of hand drums; and guitarist Jim Peterson, a Berklee professor of music, whose spare, responsive accompaniment made each note matter.