Cosecha takes new tack on immigration advocacy by focusing on the people
Movement zeros in on opinions of public, not politicians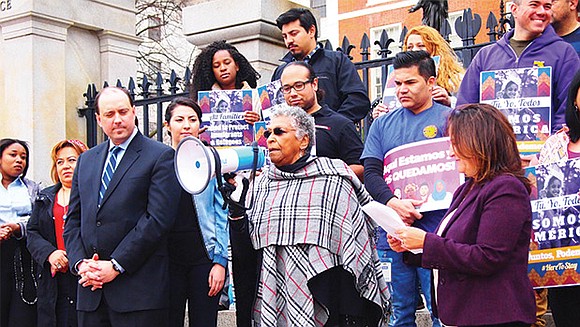 When President Donald Trump's first travel ban stranded four families at Logan airport, members of Movimiento Cosecha, an immigrant rights movement with a distinct strategy, rapidly rose to respond. Activists arranged an airport-site rally that drew politicians such as Mayor Martin Walsh and state Sen. Elizabeth Warren and provided lawyers leverage to win the families' release, one of the activists, Rodrigo Saavedra, told the Banner previously.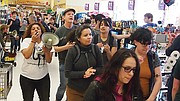 That protest was arranged in about an hour and a half. On that Saturday, Cosecha members decided at 4 p.m. that they needed to respond with a protest. Their 5:30 p.m. Facebook announcement ultimately drew about 1,500 people by the demonstration's 10:30 p.m. ending, Saavedra said.
Saavedra and others active in Cosecha have been generating attention via actions that focus on tapping into and leveraging existing energy in activist and immigrant communities. The movement focuses on shifting public opinion, rather than advocating specific legislation to policymakers.
"[With Logan,] Cosecha sent out the call and the response was big," Gloribell Mota, an organizer with Cosecha, said during a Banner phone interview. "One of our principles is that what we need for this movement already exists in our communities. We have faith that the community will respond when it gets the call."
Moviemiento Cosecha
Founded in 2015 by DREAMers —undocumented immigrants brought into the U.S. wjen they were children and — and immigrant rights activists, Cosecha is a nationwide network that calls upon many community members who also are involved in other immigrant rights groups.
The movement's strength comes from its decentralized structure, Andrea Carceres, a union organizer, told the Banner.
"Each community, each circle, comes up with actions that make sense for them," she says. "People can collectively become a movement that represents to interests of their own communities. What makes sense in Boston doesn't make sense in other communities. Respecting that is important."
The movement says it is volunteer-run and includes hundreds of part-time volunteers and more than 50 trainers engaged in more than 30 municipalities and campuses nationwide. It is active in ten states.
Members say their goal is to secure "permanent protection" for all immigrants in the U.S., creating a society that regards immigrants as integral members and which is free from the specter of deportation.
"We visualize a future where immigrants are able to work and travel freely without risk or fear of deportation," Cosecha's website states. "A future where we can walk with the rest of this country with the recognition that we are a part of it. A future where we are not treated as outsiders."
Last Saturday, Cosecha activists drew attention to their work with a high-energy protest in Jamaica Plain. After gathering on the steps of the shuttered Blessed Sacrament Church, activists walked in pairs toward the Stop & Shop near Jackson Square. Arriving in intervals, each couple picked up a shopping basket, some even going through the motion of placing in groceries. But when Gloribell Mota rolled up with a two-wheeled shopping cart that hid an amplified speaker underneath a towel and started blasting merengue tunes, the demonstrators dropped their baskets to the floor and paired up into dance couples.