City reveals capital spending plan
Funds school buildings, streets, libraries, parks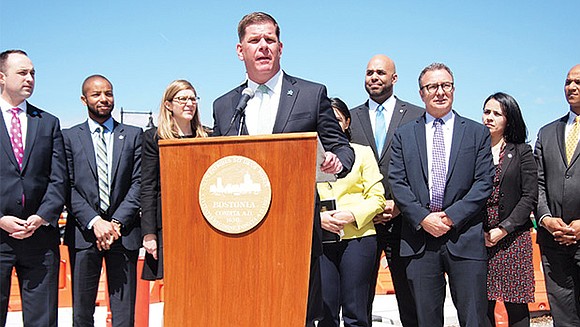 Mayor Martin Walsh introduced a $2.08 billion five-year spending proposal last week that features investments in school facilities, library branches, open spaces, crosswalk and traffic signal improvements, and other initiatives spread throughout the city. Speaking to a crowd gathered outside in East Boston's Central Square, Walsh said the 2018-2022 capital plan acts on several of the recommendations from Imagine Boston 2030, Boston's first citywide planning effort in 50 years.
Walsh told attendees that the budget's federal dollars — amounting to approximately $300 million —already have been allocated by the legislative branch and cannot be retracted by President Donald Trump. However, several major park renovations and affordable housing redevelopments hinge on city officials' assumption that the Winthrop Square garage sale will conclude with the $153 million price tag they anticipate.
Walsh's plan funnels $151 million into City Council District 7, currently represented by mayoral challenger Tito Jackson, which represents the greatest investment in any one district. The city council will review the budget over the next several weeks before voting on it.
Jackson was not available for comment for this story.
School spending
Walsh proposes an investment of $312 million over the next five years into BPS facility projects, representing 15 percent of the $2.08 billion overall capital plan. His proposal also calls for a further $418 million invested during the five years thereafter, 2023-2028. School facility financing comes in part from the Massachusetts School Building Authority and in part from money the city plans to borrow. However, none of the capital funding reverses the cuts to a number of schools' yearly operating budgets. The cuts have resulted in loss of librarians and other positions at some schools as their leaders were forced to find ways to absorb the funding loss. School cuts have been a source of contention for the Walsh administration and a common line of attack from Tito Jackson.
Funding will help underwrite new technology and flexible learning spaces, the latter achieved via easily moveable furniture and other measures, according to city documents. School leaders will be presented with a menu of upgrade packages from which to choose, based on needs, and to be implemented during the 2017 to 2018 school year. Walsh said that in coming weeks, officials would hold community discussions over the kinds of investments and renovations residents would like to see.
In Roxbury, Walsh's capital plan would direct $73.4 million to complete design and construction of the Dearborn STEM Academy, which is slated for enrollment in September 2018. A further $125 million is slated for yard improvements at the Hernandez School, which includes installation of an artificial turf and new play structures and refinishing the parking lot. Madison Park Technical Vocational High School and the O'Bryant School of Mathematics and Science would receive $6.3 million between them for women's locker room renovations.
An internet improvement project totaling $10 million would bring broadband service to 73 of BPS's 125 schools, as well as to other city sites.
Transportation, libraries and parks