New challengers emerge for city council seats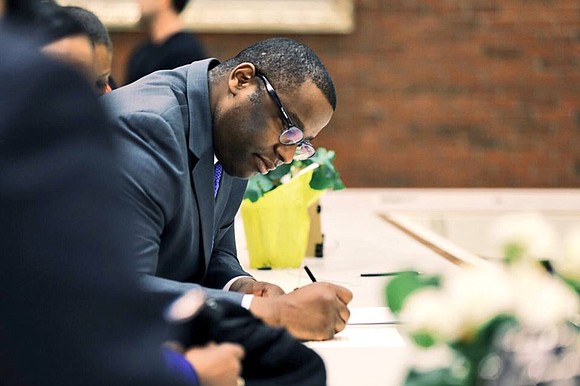 With city council applications for nomination papers made available Wednesday, a spread of challengers are emerging. The list of competitors for the District 7 seat being vacated by Tito Jackson grows increasingly long. The departures of Councilors Sal LaMattina of District 1, and Bill Linehan of District 2 have been answered by several candidates. The at-large councilors and District 8's Josh Zakim face fights for re-election.
To be on the Sept. 26 primary ballot, candidates must meet the one year residency eligibility requirement and gather a qualifying number of signatures between May 2 and 23. Would-be district councilors need a minimum of 200 signatures from district residents, while at-large councilors must collect at least 1,500 signatures. If enacted, a home rule petition that passed in March in city council would allow voters to sign as many candidates' papers as desired. Without the new policy, voters will be limited to giving signatures to only up to four at-large candidates and one district candidate.
While candidates were only able to pull municipal election applications starting today, many set their campaigns in gear weeks and months in advance. Below, the Banner provides an overview of candidates.
District 1
LaMattina has spent eleven years representing Charlestown, the North End, East Boston and Beacon Hill as District 1 councilor. As he retires, the first to step forward for the seat are East Boston's Lydia Edwards, the current deputy director of the city's Office of Housing Stability; Charlestown's Jack Kelly III, a policy advisor to Councilor Linehan; East Boston's Michael Sinatra, LaMattina's chief of staff; and the North End's Stephen Passacantilli, current director of operations for the Boston Transportation Department and former aide to both LaMattina and Mayor Martin Walsh.
In her role for the city, Edwards, 36, is responsible for programs aimed at assisting residents who face displacement. Tasks she is charged with include collecting eviction data, negotiating housing solutions between tenants and landlords and advocating for policies, with the Jim Brooks Stabilization Act as a recent example. Previously, Edwards served as a public interest lawyer with the Greater Boston Legal Services and was received the 2015 Bostonian of the Year honorable mention for her advocacy around immigrant and domestic workers rights. She opened a first-in-the-nation law and policy clinic for domestic workers and was later part of the team that wrote the Massachusetts's Domestic Workers' Bill of Rights.
Last year, Edwards made a bid for the state senate seat vacated by Anthony Petruccelli, but lost in the Democratic primary to Joe Boncore. She ranked in fourth out of seven primary contenders, taking 14.6 percent of the vote, according to state records.
As of January 20, Edwards had $10,533 in the campaign fund she established for that race. As of April 19, she has yet to file a new statement of purpose with the Office of Campaign and Political Finance designating her campaign for the city council race. Her treasurer is Vann Snyder.
Meanwhile, Passacantilli, 41, is a Boston Public Schools parent whose experience includes several years as president of the North End/Waterfront Neighborhood Council. His grandfather, great-grandfather and great-grandmother all held public positions: city councilor, state senator and immigration commissioner, respectively. Passacantilli formerly served as a special assistant to the mayor's office. He has yet to file his campaign with the Office of Campaign and Political Finance, as of Thursday morning.