Black firms tackle fourth largest hotel project in Boston
Diversity participation criteria may set national precedent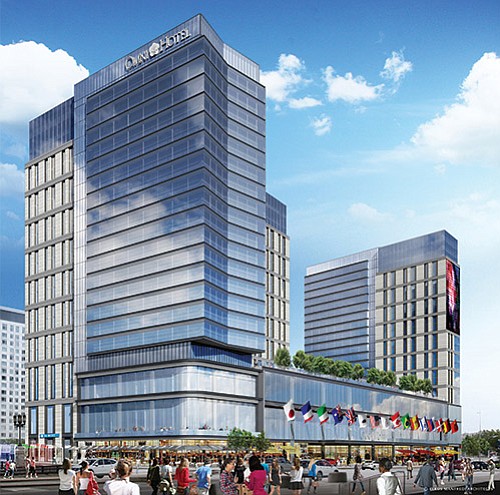 A development expected to become the fourth largest hotel in Boston and the rest of the state is slated for development by a team with significant minority involvement.
The $550 million, 1,054-room hotel will be built on Summer and D Streets in South Boston's Seaport District, and situated across from the Boston Convention and Exposition Center. The facility is intended to fulfill BCEC's convention, event operations and meeting needs as well as host local residents with expected completion in 2021. Massachusetts Port Authority, which owns the land, selected a collaboration between Dallas-based Omni Resorts and Hotels and New Boston Hospitality, LLC as developers.

Massport's request for proposals established minority participation as one of four equally-weighted priorities that guided the review and selection process. Kenn Turner, Massport's director of diversity and inclusion and compliance said that to his knowledge, this is the first time any agency in the city, state or country has inserted such strong language around diversity.
"Across the country, no one has done this," Turner told the Banner. ""If you truly wanted to be competitive [in this request for proposals], you had to have a comprehensive diversity program, soup to nuts, across all aspects of the program."
While minorities more often are engaged in construction work, the RFP also called for inclusion in ownership, architecture, design and management operations, Turner said. The requirement was successful: Minority leadership is present in every step of the project. This includes development, construction, architectural design and investing. For the project's general contractor, developers secured Janey Construction in a joint venture with Winchester-based John Moriarty & Associates. The architectural design work was done by Stull & Lee in collaboration with Moody Nolan and Elkus Manfredi Architects, with the late Howard Elkus leading the team.
Stull & Lee is known as "the most distinguished black architectural firm in the city," according to Richard Taylor, managing partner at The Taylor Smith Group.
The Taylor Smith Group, a Boston-based company, is one of several partner firms in the New Boston Hospitality, LLC. Spot On Ventures' Robin Brown joins as well, bringing hotel experience from his stint as co-developer on the Mandarin Oriental Boston hotel and more than a decade as general manager of Boston's Four Seasons Hotel. New Boston Hospitality also includes The Davis Cos., which have experience with projects possessing complex funding.
More than 25 local minority investors have bought into the project as well. Included on the investor list are attorneys Flash Wiley and Wayne Budd, Jacqui Budd, a philanthropist, Bennie Wiley, a former management consultant; Charles Stith, Boston University professor; John Jenkins, former state Department of Transportation chair; and William "Mo" Cowan of Mintz Levin.
New opportunities
Historically, minority-owned businesses have received fewer resources and opportunities, limiting their ability to grow and then take on larger projects. For these minority firms and other participants involved, the Seaport hotel development could open doors to new opportunities. Richard Taylor said that while he has had longtime interest in undertaking hospitality projects, when it comes to winning bids, he has found himself caught in a chicken-and-egg situation: He cannot enter the hospitality market without prior experience in the hospitality market. Developing Massport's Seaport district hotel gives him the needed chance to expand his portfolio.