Jacob Latimore stars in 'Sleight'
Kam Williams | 4/14/2017, 6 a.m.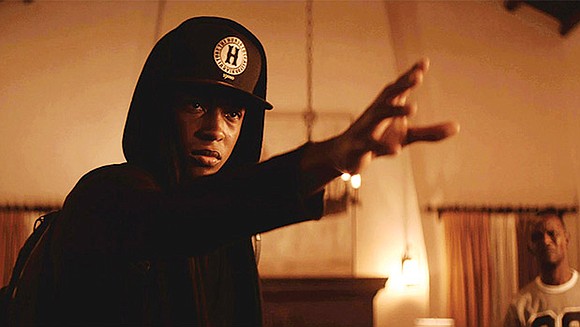 Jacob Latimore has been hailed by Variety, Indiewire and The Wrap as a young breakout star. Having emerged as one of the most promising talents of his generation, his upcoming films are by Academy Award-winning directors and writers and he plays alongside actors of that same caliber.
Latimore was most recently seen among the ensemble of celebrated thespians in the holiday season film "Collateral Beauty," directed by Oscar-winner David Frankel. The picture follows the story of a once-successful businessman (played by Will Smith) who has slipped into severe depression following a personal tragedy. His friends, played by Edward Norton, Kate Winslet and Michael Pena, show concern when he begins writing letters to various objects on themes like time, love and death, which then show up as people played by Latimore, Keira Knightley and Helen Mirren.
Latimore has just completed production on a yet-to-be-named crime drama with another Oscar- winning director, Kathryn Bigelow and her "Zero Dark Thirty" and "The Hurt Locker" screenwriter Mark Boal. The movie chronicles a police raid in Detroit in 1967 that resulted in one of the largest citizen uprisings in U.S. history. Also upcoming is the film "Krystal," in which Latimore joins William H. Macy, Felicity Huffman, Kathy Bates and Rosario Dawson in a romantic dramedy directed by Macy.
Earlier in his career, Latimore was featured in two of 2014's biggest box office hits, playing Ramon in "Ride Along" opposite Ice Cube, Kevin Hart and John Leguizamo, and in the sci-fi thriller "The Maze Runner." The year before, he starred as Langston in "Black Nativity," working alongside Forest Whitaker, Angela Bassett, Tyrese Gibson, Jennifer Hudson, Mary J. Blige and Nas. And prior to that, he made his feature film debut in a lead role in the post-apocalyptic thriller, "Vanishing on 7th Street."
Besides acting, triple-threat Latimore is a dancer and established R&B singer. After a number of hit singles, his debut album, "Connection," was released last December.
A native of Milwaukee, Wisconsin, Latimore currently lives in Atlanta, Georgia. Here, he talks about his latest movie, "Sleight," in which he stars as a street magician who starts dealing drugs to support himself and his sister after the death of their single mom.
What interested you in "Sleight"?
Jacob Latimore: "Sleight" is the kind of film you dream about. It balanced the genres of science fiction, romance, family and reality in one story. I was completely drawn into the character and the complex issues he faces. It's not often you get a script that allows you to stretch your own ability as an actor and I saw the ability to do that with this film.
How would you describe the film in 25 words or less?
JL: It's a genre-bending superhero origin story. Although it focuses on a street magician, "Sleight" ultimately is a story about the lengths a person will go to protect his family.
How would you describe your character, Bo?
JL: Bo is a guy who is passionate about magic and in his own way strives to do something with his magic that has never been done before. He's determined. Due to his parents deaths, he needed to grow up faster than he anticipated because he has to raise his younger sister. And what he learns as a grown-up affects everything he does.