Legislators prioritize needed school funding update with new budget formula bill
Foundation budget falls short of needs by $1-2 billion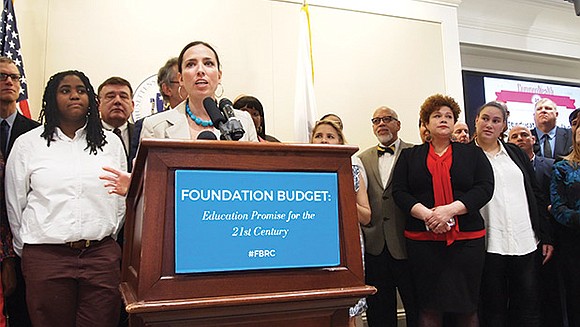 Since a 2015 report revealed that the state underestimates needed school funding by $1 billion to $2 billion, Sen. Sonia Chang-Diaz has been pushing to reform the budgeting process. Two years and two failed attempts later, the senator says change is in sight.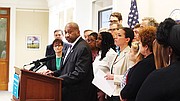 Educators, education activists and supportive state legislators gathered at the State House on Monday to call for passage of a bill that would update the foundation budget, the formula by which the state determines the minimally adequate budget needed for each school. That formula has not been adjusted in 24 years — despite a provision in the law that established it that calls for review every two years. Over the years, it has emerged that the formula's writers severely underestimated how much health care costs would rise as well as other expenses, the new bill's supporters say. Schools are required to prioritize funding health care, meaning these expenses draw from the pool of money that could otherwise go to supplies, programs and initiatives such as extended learning time and socioemotional supports, Chang-Diaz says.
The foundation budget as it stands also falls short of meeting the needs of special education students, English language learners and students who are low-income. The problem is compounded for low-income students living in neighborhoods with high concentrations of poverty.
Maria Karloutsos, a grade 3 teacher at the Joseph P. Manning Elementary School, spoke of a boy in her class with special needs whose family is low-income. The school does not have enough books to meet his needs and his own family cannot afford to provide them, she said.
"This is a child who regularly asks me for books to take home so he can practice his reading — a request I am unable to fulfill with resources available to me from the state," she said.
Karloutsos said she uses her own money to purchase books for the boy, but is limited by her need to purchase supplies for the rest of the classroom as well.
"We have delivered really high-quality education in Massachusetts," Chang-Diaz told the Banner. "The problem is that the system that got us there is fraying. We are at risk of not being able to continue to do that into the future. [And] for millions of other kids over the past 24 years, we did not succeed in delivering on that promise."
While Massachusetts often is heralded as a model of public education, in national ranking it falls behind 47 other states in closing the achievement gap between wealthy and poor students, according Chang-Diaz.
The fix
Chang-Diaz's bill introduces what supporters say is a more accurate way to anticipate health care costs and increases special education funding and assessments, raises ELL weighting and establishes a data advisory task force to better use school-level data to inform policy decisions in the future. The bill also would categorize school districts into one of seven possible poverty concentration tiers, and sets for each tier a level of additional school aid provided to educate each low-income student, Chang-Diaz said.