Congressman talks straight with constituents on challenging times ahead
Capuano discusses GOP, Trump agenda
Yawu Miller | 4/12/2017, 10:01 a.m.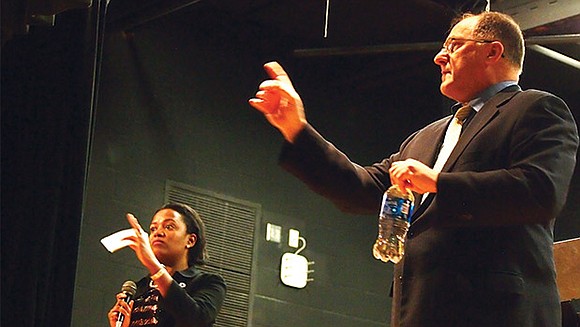 The missile strikes on a Syrian airbase, funding cuts to sanctuary cities and growing partisanship were among the topics U.S. Rep. Michael Capuano discussed with constituents during a meeting at the Mildred Avenue K-8 school in Mattapan Monday.
In his characteristic straight-talk fashion, Capuano dished out answers that did not always allay the fears and concerns of the 75 or so constituents who attended the meeting. When asked what Democrats could do to block Attorney General Jeff Sessions, Capuano said there isn't much.
"Donald Trump won the election," he said. "He kinda didn't, but he did. He gets to make appointments. I don't know what can be done to stop him except the next election, and that won't stop him, just slow him down."
Court action may be the only avenue to block the more controversial moves coming from the administration of Donald Trump, Capuano added, citing the president's executive orders barring travel from selected majority-Muslim countries, the first of which was overturned by a federal court and the second, which has been temporarily suspended by a court.
But the very fact that immigration advocates are fighting these battles is the consequence of Trump and the Republicans securing electoral victories. As is a federal budget that contains a proposed $60 billion increase in military spending and a concurrent $60 billion cut to domestic programs, including the Meals on Wheels program and the Women Infants and Children public assistance program.
"He's literally taking food from children," Capuano said. "All to fund the military budget. I'm in favor of a strong military. We have one. We already control the skies. Why do we need better planes when nobody can touch the ones we have."
Capuano also noted that Trump's budget cuts would cut aid to South Sudan at a time when that region is experiencing a famine, caused in large part by military conflict there.
When asked about the Trump administration's strike on a Syrian airfield in response to the government's use of chemical weapons in an attack that killed 87, Capuano said he is opposed to any president taking military action without congressional approval. He noted that he was one of four congressional representatives who sued former President Barack Obama after he launched missile strikes against Libya without congressional approval.
Capuano also noted that the Trump administration has articulated no clear goals for its military action in Syria before taking on its president, Bashar Al-Assad.
"Assad has done terrible things," Capuano said. "To see a kid who's the victim of a chemical attack is awful. But is it any better to see a kid starving in South Sudan because of a military conflict?"
When asked whether he thought the attack on Syria was hatched as a diversion from Trump's domestic and international setbacks, Capuano said he doesn't think the president would get away with such a tactic.
"If that's the case, they'll likely come to regret it," he said, noting the ongoing investigation into whether people working on the Trump campaign colluded with Russian operatives during or after the election.