Aldis Hodge stars in 'Underground' and 'Hidden Figures'
Kam Williams | 4/6/2017, 6 a.m.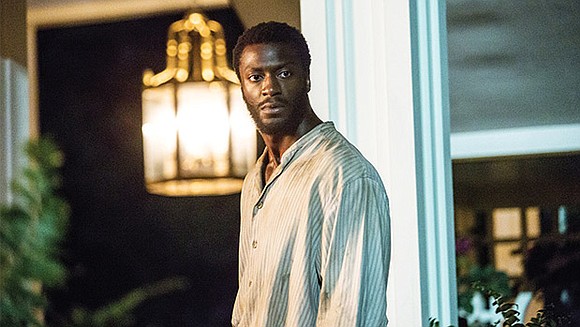 Aldis Hodge is perhaps best known for his role as Alec Hardison on the TNT series "Leverage," which nabbed a People's Choice Award in 2013, in addition to his role as MC Ren in "Straight Outta Compton." He also starred in the Amazon pilot "The After" and enjoyed a recurring role on the AMC Revolutionary War drama "Turn: Washington's Spies."
Hodge started his career at age 3 as a model for print ads and commercials. He made the transition to the small screen when he and his brother Edwin were cast on "Sesame Street." Later, they joined the Tony-winning revival of "Showboat" on Broadway.
During that period, he parlayed his success on stage into a movie career, debuting in "Die Hard with a Vengeance," before making "Bed of Roses," "The Stone House," "Edmond," "The Ladykillers" and "Big Momma's House." His many television roles include the critically-acclaimed series "Friday Night Lights," "Supernatural," "The Walking Dead," "Girlfriends," "American Dreams," "City of Angels," "Bones," "CSI: Crime Scene Investigation," "ER," "Cold Case," "Charmed" and "Boston Public."
Born in Jacksonville, North Carolina but raised in New York and New Jersey, Hodge is now an avid scriptwriter, designer and painter as well as actor.
Here, he talks about playing Levi Jackson in the Oscar-nominated "Hidden Figures" and about reprising the role of Noah on "Underground," the television series about the Underground Railroad that started its second season recently on the WGN America network.
What first interested you in doing "Underground?"
Aldis Hodge: I enjoyed the way the story was written. I was intrigued by the narrative showing people rising up and fighting for their freedom.
What can we expect to see new this season?
AH: I'll put it like this, brother. Everybody thought it couldn't get crazier or more dangerous, but it does. Last year, everyone was focused on this idea of freedom and just getting off the plantation without contemplating the harsh reality of what that really meant. At the end of the season, we were pretty much split up. Now, you get a pretty introspective view of each character. We're all dealing with the consequences of what transpired last season in our own way. My character, Noah, was learning what it meant to try to be a leader. This season, he's learning more about who he is as a man. Right now, the strength of his love for Rosalee [played by Jurnee Smollett-Bell] is more important to him than freedom, whereas last year was purely about survival.
What's it like acting opposite Jurnee Smollett-Bell?
AH: She's awesome! That's my road dog right there. Our characters go through so much together this season that we have to depend on each other emotionally as actors. We didn't share a lot of scenes together [earlier] because our story focuses on Noah and Rosalee trying to get back to each other. We see that their love transcends their situation. There's still a very powerful connection between them, and we had to develop that. So, we had to take a different approach, and Jurnee was there 100 percent of the way. She is an absolute beast!