'A philosopher with a trumpet'
Wynton Marsalis plays Pulitzer prize celebration at Harvard's Sanders Theatre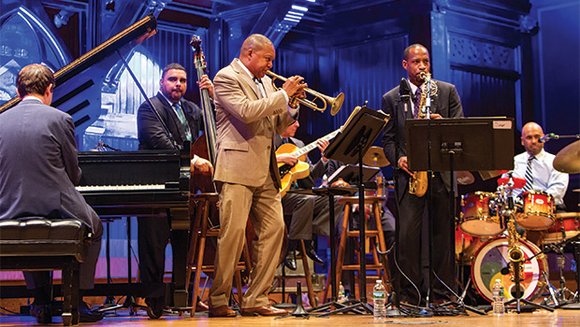 Since 1917, annual Pulitzer Prizes have singled out excellence in American journalism and the arts — literature, theater and music. Words are powerful tools in these works, even in the music awards, which often honor projects that incorporate song and speech and tell a story.
So words loomed large in the two evening performances that began and concluded last weekend's centennial celebration of Pulitzer Prizes. Held at Sanders Theatre at Harvard University and presented by the Nieman Foundation for Journalism, the event featured Pulitzer Prize recipients who in readings and performances explored the theme "Power: Accountability and Abuse."
Introducing the event on Saturday night was Wynton Marsalis, managing and artistic director of Jazz at Lincoln Center and director of Jazz Studies at the Juilliard School in New York. In 1997 his oratorio "Blood on the Fields," about a slave's journey to freedom, became the first jazz composition to win the Pulitzer Prize for Music.
Concluding the celebration on Sunday, the 15th anniversary of the Sept. 11 terrorist attacks, was an evening performance of "On the Transmigration of Souls," by composer and conductor John Adams, winner of the 2003 Pulitzer for Music. The New York Philharmonic commissioned the work to commemorate the first anniversary of the attacks.

Introducing Marsalis on Saturday night, Harvard University President Drew Gilpin Faust described him as "a philosopher with a trumpet."
Marsalis and his ensemble said hello with their instruments, launching a fast bebop passage. They then proceeded to both show and tell their thoughts on power, its uses and abuses. Pointing out that jazz improvisation is "an achievement of togetherness," Marsalis led a musical and verbal reflection on what he called "fundamentals": the need to balance freedom with responsibility, to both lead and follow, and heed both instinct and training — "all under the pressure of right now."
Weaving in episodes from "Blood on the Fields," as the enslaved African Jesse works his way to freedom, Marsalis spoke of the need to confront both external abuse and abuse from within. Jesse had to grow before he could deal with his external oppressors.
Diversity and harmony
Over an hour and a half, Marsalis and his six fellow players took each of these fundamentals and demonstrated them through playing music. The ensemble comprised Marsalis on trumpet; Walter Blanding on saxophone; guitarist James Chirillo; Carlos Henriquez on acoustic bass; pianist Dan Nimmer; and Ricky Gordon on washboard. Their instruments also included the basics — hands and voices.
Among the values they asserted: Diversity, showcasing in varied rhythmic patterns how jazz is an inclusive, living family tree — rooted in sub-Saharan African music and extending to Scottish folk songs and dances, the call-and-response of slaves' work songs, the blues, Mardi Gras marches, the Afro-Cuban five-beat clave rhythmic pattern and beyond.
Drummer Ali Jackson led the ensemble in a chorus of claps to various speeds and rhythmic patterns, an infectious celebration of diversity within a coherent whole.
Repeating a simple blues refrain — "It's all right baby, baby it's all right" — over and over with varied rhythmic patterns, Blanding and Marsalis turned the phrases into an alluring song.