Protesters condemn CEOs who profit off Puerto Rico's debt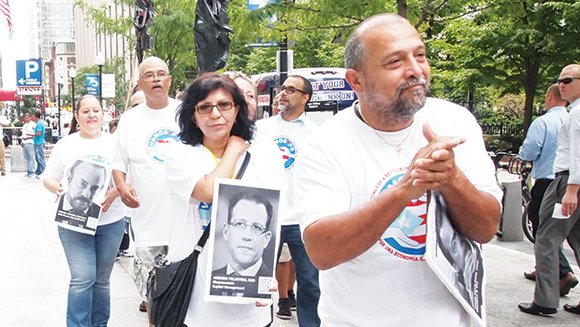 Protestors marched last Wednesday outside the downtown Boston headquarters of USB, a financial services firm that demonstrators claim worsened Puerto Rico's debt crisis by perpetrating predatory lending.
The protesters sought to raise awareness of what they say are abusive investor practices and show solidarity for Puerto Rico, said Otoniel Figueroa-Duran, demonstration organizer.
The island's current debt totals more than $70 billion.
According to a report distributed at the protest, UBS and other financial groups reaped big profits from underwriter fees they received for preparing and facilitating bond deals on the Puerto Rican government's behalf. In many cases, these bonds were taken out to pay interest on existing debt — which only compounded the economic crisis, because the government acquired new interest to pay back as well as owed fees for each new bond deal's issuance.
This and an earlier report from the ReFund America Project — an organization supported by the Roosevelt Institute think tank — take the stance that it is morally wrong to compel Puerto Rico to repay debt generated from high interest rates and issuance fees when doing so threatens the vitality of public services, including schools and hospitals. They argue that the creditors knew the financial straits the island was in and sought to profit anyway, encouraging the government to borrow and charging it high fees to do so. Because of that, they argue, those investors should not be given preference over citizens.
"Any debt restructuring must put the interest of the Puerto Rican people first and must ensure that banks and creditors are not able to profiteer off the suffering on the island," the report states.
Outside UBS headquarters, the group of about 15 demonstrators carried vulture-shaped flags — a reference to the "vulture fund" label activists having been applying to profit-seeking hedge fund investors — and signs depicting the faces of CEOs. Four musicians played brass instruments, drawing attention from passersby, while a handful distributed flyers.
Among the protestors was Yara Liceaga, a writer and teacher who moved to Boston from Puerto Rico a month ago with her five-year-old daughter and eight-year-old-son. When the Puerto Rican private school she worked for downsized, Liceaga was laid off and had trouble finding a new job or an affordable, quality school for her children.
"We had to come to the U.S. to live because of lack of jobs, the failing economy, schools closings, the health care system collapsing — everywhere we looked, there was nowhere to go," she told the Banner. The move is especially hard on her children, who struggle to adjust to losing their friends and house, and adapt to New England's more reserved social culture and weather that feels cold even in August, she said.
Another protestor, Rafael Cruc, left the island in 2002, driven out by high prices and lack of jobs, he said.
PROMESA conference
The Boston event coincided with demonstrations in Florida and Connecticut, as well as in Puerto Rico where the first conference on the Puerto Rico Oversight, Management and Economic Stability Act — also known as PROMESA — convened that same day.