Boston plans to be more age-friendly
Seniors review report, outline top priorities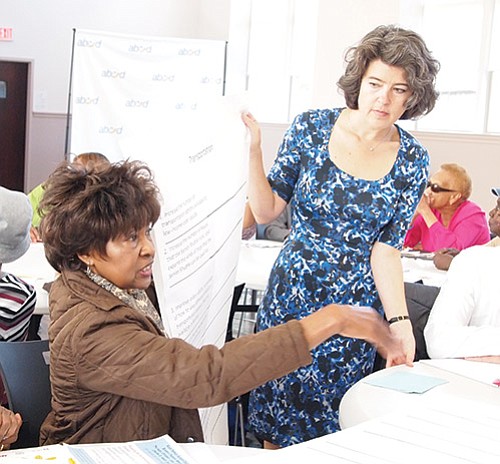 Older residents gathered last week to discuss what Boston can do to help them stay and live comfortably in the city. The event — held at Action for Boston Community Development's Thelma Burns Building in Roxbury — came after months of information gathering conducted last fall and winter by members of the Age-Friendly Boston Initiative. Organizers presented key concerns and wants identified from listening sessions and surveys, and they asked residents to confirm the concerns, submit others they felt were missing and mark which issues to prioritize.
Last week's meeting focused on four key topics — housing, transportation, outdoor spaces and buildings, and community services — with a further four to be discussed at a November session. Many attendees expressed desires for greater sidewalk safety, help with snow clearing and more affordable housing options and services.
Andrea Burns, director of Age-Friendly Boston, told the Banner that residents often report feeling invisible to elected officials when they get older. She emphasized the importance of engaging seniors in developing the city's age-friendly action plan in order to secure their buy-in, build trust and demonstrate that their voices matter.
The Age-Friendly Boston Initiative is a project of the city's Commission on Affairs of the Elderly. The commission conducted its 2016 information gathering efforts in partnership with AARP Massachusetts and the Gerontology Institute at the University of Massachusetts Boston, and with grant support from the Tufts Health Plan Foundation. The listening sessions reached approximately 825 people through 25 gatherings and the surveys — offered in paper and online formats — garnered 3,629 responses.
Housing and services
Jan Mutchler, of UMass's Department of Gerontology, told attendees that only 16 percent of survey responders said there were enough affordable housing opportunities available in their neighborhoods. Boston's housing plan will not provide enough units to meet need, Burns stated. In Chinatown, the waiting list for subsidized housing is about ten years, she said. In addition to seeking more affordable housing stock, many respondents requested improved provision and access to resources that would help them stay in their current homes. This includes assistance finding trustworthy, inexpensive home maintenance services and increasing parking availability to allow care professionals as well as family and friends to visit more easily.
The resources-based approach to addressing housing needs may be particularly effective, Mutchler said, noting it is easier and more economical to increase service offerings and awareness than to construct new units. One goal of the initiative is to allow residents the option to remain in their homes as they age — what the vast majority of survey responders said they wanted to do.
Speaking in breakout groups, residents highlighted the need for increasing awareness of existing resources, especially to homeowners who may be more isolated than tenants living in larger buildings. Among the ideas: utilizing public service announcements and emails, spreading the word through local media such as the Bay State Banner or Haitian radio, as well as designating people as a points of contact for residents in their areas.
Several residents also said that the income cutoff for subsidized services and supports should be increased to match rising costs of living and should be standardized across programs to make it easier to navigate. One senior said that while she would like to sell her house and move into affordable housing, the money she makes off the sale will put her above the affordability income limit.