Unfinished business: Kara Walker's artwork deals with arenas of race, gender and identity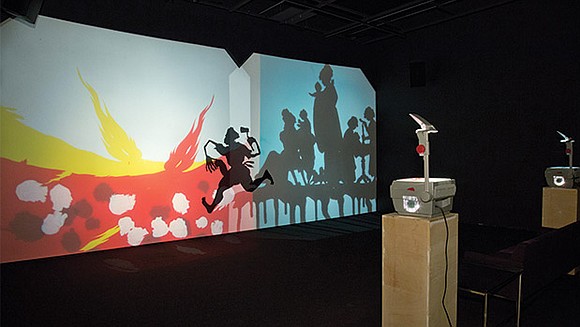 Renowned contemporary artist Kara Walker is known for elegant, provocative murals that employ hand-cut stencils to render the persistent legacy of slavery. She casts her silhouetted figures in violent or sexual scenes that evoke unfinished business in the arenas of race, gender and identity.

Walker spoke at the Institute of Contemporary Art Boston last Thursday night, where one of her wall-sized installations is on display.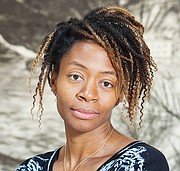 Outfitted in a black shirt, tights and boots, Walker, 44, who has the lithe figure of a dancer, showed slides of works over two decades while reflecting on the instincts and interests that have shaped her career.
"There's a narrative framework to all my work," Walker told the audience that packed the 325-seat theater.
While in college studying painting, Walker began to feel that, as an African American and as a woman, she needed to create her own "origin story."
Other African American artists — including Lorraine O'Grady, Carrie Mae Weems and Lorna Simpson — were also exploring issues of race, gender and identity. But Walker was coming up in a new generation and had her own stories to tell.
By the time she graduated from the Rhode Island School of Design (MFA '94), she had discovered a medium suited to her story-telling instincts: the old-fashioned, delicate art of fashioning silhouetted figures out of hand-cut stencils.
Although more commonly associated with frilly valentines than politically charged art, hand-cut silhouettes also have been a medium of choice for another artist, South African William Kentridge. Silhouetted figures populate his black and white prints and animations, which chronicle with dry humor apartheid's toll on both white and non-white South Africans.
Using a tool associated with small, intimate scenes of domestic life and women's work, Walker brings to this medium a taste for the epic stirred by her study of nineteenth century painting and its rendering of grand historic dramas.

Noting that silhouettes lend themselves to storytelling, Walker said that she left painting behind but applied to her new medium the history painter's view of portraits "as characters on a stage," with the painting providing their stage.
Walker's stories show us that things are not what they seem to be, through hallucinatory, topsy-turvy images that cast her characters in obscene scenarios. By borrowing ready-made caricatures familiar to an American audience via pop culture, she gives her revisionist histories a head start.
Her silhouettes summon clichéd characters of the Old South recognizable to anyone acquainted with "Gone with the Wind," "Song of the South" or the "Uncle Remus" stories, in which sunny, subservient blacks serve their grateful white patrons. But her Southern belles, plantation grandees, nannies, old folks, pig-tailed girls and barefoot boys perform lewd or violent acts with one another in her tableaux, which render the legacy of slavery as an abiding hell. They call to mind the surreal scenes of 16th-century painter Hieronymus Bosch — if he had a sense of humor as well as horror.

Walker's installations also draw from canonical works that address racial injustice, including Harriet Beecher Stowe's 1852 novel, "Uncle Tom's Cabin" and Mark Twain's humorous but scathing 1884 masterpiece, "The Adventures of Huckleberry Finn."