Works of Doris Salcedo on view at Harvard Art Museums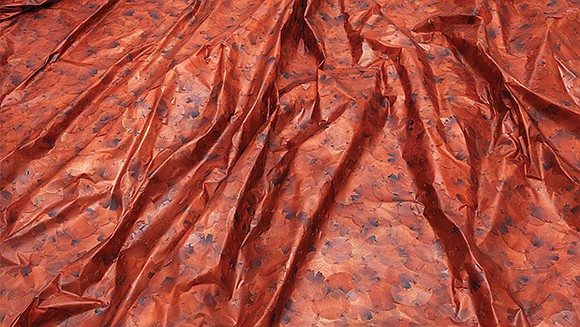 When politicians fail, sometimes artists succeed.
Last month, when Colombians by a narrow margin vetoed a peace agreement to end their country's 52-year civil war, artist Doris Salcedo drew thousands of citizens to a square in the center of the nation's capital, Bogotá. Together, they wrote the names of war victims on acres of white fabric in a vigil that gave voice to the healing yet to come.
Salcedo's sculptures, installations and public interventions give voice to victims of violence, from the tortured and slain in her own country to mothers in Chicago housing projects whose children were killed in gun violence.
"All art is political," Salcedo, 58, said while in Cambridge to open an exhibition of her works at the Harvard Art Museums. "The expression 'political art' is redundant."
In the wake of our own bruising election, it seems worth noting that the word "political" means power in a public sphere. In her works, Salcedo counters the annihilating force of political violence, which often mutes its victims, by making loss visible and evoking empathy across time and place.
Suffering presence
As a sculptor, Salcedo transforms matter into something beyond itself. With an alchemist's drive, Salcedo pushes her chosen material to achieve what she describes as "the impossible:" an encounter with what has been lost and a requiem that the victim was denied by his or her assailant.
Instead of depicting individuals or events, her semi-abstract sculptures engage the viewer in reflection and remembrance. With poetic power, they conjure associations and memories in the viewer, who becomes an active participant in her work.
The strenuousness of Salcedo's process, itself a ritual of mourning, begins with interviewing survivors and extends to exhaustive research into materials, often in collaboration with scientists.
An artist of international renown, Salcedo was awarded the Nasher Sculpture Center's inaugural Nasher Prize in 2016 and also received the 2014 Hiroshima Art Prize.
Her influences include Joseph Beuys (1921-1986), a Luftwaffe pilot in World War II who after being shot down reinvented himself. As a sculptor, performer and teacher he probed the soul of post-war Germany and influenced many younger artists to do the same on their own turf.
Here at Harvard (and formerly MIT), Salcedo's fellow Hiroshima Art Prize recipient, Krzysztof Wodiczko, expresses the suffering of marginalized communities through video projections on civic buildings. His 1998 installation commissioned by the Institute of Contemporary Art Boston screened videos on the Bunker Hill Monument of grieving parents as they broke their silence about gun violence in Charlestown.
Loss and change
On view through April 9, 2017, the spare and intense exhibition entitled "The Materiality of Mourning" and its catalog by the same name culminate a decade of research by the curator, Mary Schneider Enriquez, the museum's Houghton Associate Curator of Modern and Contemporary Art. Her catalog explores Salcedo's work from the 1980s to the present, and includes essays by the artist and the museum's conservation scientist, Narayan Khandekar, who writes about Salcedo's use of fragile organic materials and the challenges of conserving her works.