The Smartick method helps kids beat math anxiety
Bobbie Carlton | 11/10/2016, 6 a.m.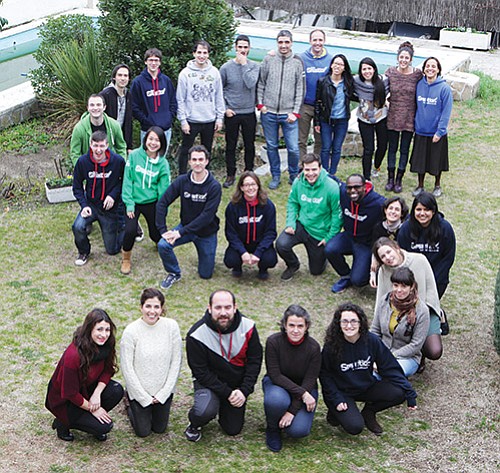 Do you remember standing at the blackboard as a child? You were struggling to answer a complicated math problem. You held the chalk so tightly it broke in your hand as you tried desperately to remember what Miss Jenkins said about long division. Finally, you managed to scribble something illegible on the board so you could just sit down and stop sweating. You had (and might still have) math anxiety.

Now, you're a parent. You'd do anything to keep your child from feeling that same frustration and self-doubt. If spending fifteen minutes a day practicing math could bolster your child's confidence, what would it be worth to you? The creators of Smartick, the online math program, think math confidence and comfort is priceless.

On the web
Think Smartick might work for your child? Visit them online for more information: www.SmartickMethod.com
In 2009, entrepreneurs Javier Arroyo and Daniel Devega founded Smartick as a homework supplement. They wanted to create a way for students to see results, despite spending just fifteen minutes a day using their system. Instead of a grade-level based program that forces every child to move at the same pace, Smartick's unique artificial intelligence-powered software adapts to the abilities and needs of each child. It registers a child's answers and response time, then designs a customized program. The Smartick Method helps to fill in knowledge gaps, solidify lessons learned and challenge kids.
Smartick and Brookview House
Today, Smartick is providing Brookview House, a program for homeless women and their children in Dorchester, with free access to its math program. Brookview provides mothers with a safe place to live and programs such as job training to rebuild their self-esteem. Smartick now is available to Brookview kids ages 4 to 14. A Smartick team also is working on a three-month pilot with Brookview to provide guidance and, once the pilot is complete, Smartick commits to providing any of the involved families with an ongoing license for free.
"Math skills and confidence are more important than ever and these kids may need a little extra support to realize their fullest potential," said Conchi Ruiz, Smartick's vice president of operations. "The design of the application offers encouragement and positive reinforcement, helping kids learn to love math and feel confident in their math skills."
The proven Smartick Method ensures each student's understanding of mathematical concepts with a customized and personalized curriculum. Smartick accelerates their learning curve while developing their maximum capabilities, leading to a level of "math comfort" conducive to learning even more. The Smartick method includes highly-focused, short bursts of practice (15 minutes daily) with lessons that continually adapt to a child's needs, all without a parent or teacher's intervention.

Deborah Hughes, president and CEO of Brookview House, said, "Since children come to Brookview House from all over the city, we needed a program that allows students to access it from any location with internet capability. Smartick allows them to keep up with their studies no matter where they happen to be. And it adapts to each child's needs for a personalized approach."