RARE Moving Company looking to expand statewide and nationally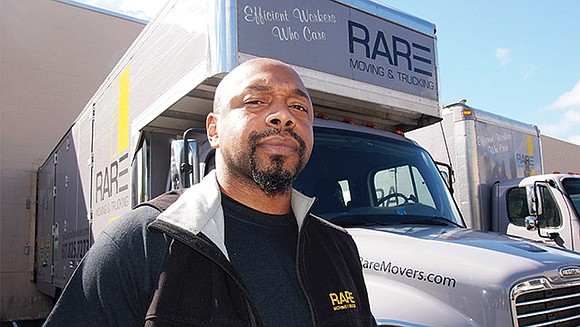 Making it through the first year of a start-up business is never a sure thing, but by September 1, 2008 Kamaul Reid knew he was on his way to success. That's when his aunt, sitting in the living room of his Dorchester home, was fielding calls from customers on what typically is the busiest day for movers. The scene outside provided confirmation that RARE Moving & Trucking was ready to meet the demand.
"We had ten rental trucks lined up on Bailey Street at 7 a.m.," Reid recalls. "My neighbors said, 'What are you doing?' We were moving forward. We had already grown to a point where we'd found our market."
On the web
Within three years of starting, RARE Movers was doing more than $1 million in business, Reid says.
He launched RARE Moving & Trucking after working for other moving companies over the previous eight years. Using his home as collateral, he borrowed money, bought a 24-foot Ford 150 truck and hired two assistants. Since then he has grown his business to include 40 employees, 7 trucks, 2 forklifts and a 25,000-square-foot warehouse and office space in Braintree.
Reid competes directly with Gentle Giant Moving Company, a 36-year-old firm with offices in Massachusetts and 12 other states.
"We cater more to the city," Reid says of his business strategy. "And we're smaller."
Being smaller makes his firm more agile, Reid says. While competitors will often give clients a two to three week window for delivery on interstate moves, RARE Moving delivers in as little as 24 hours. The larger firms often will contract with local movers to transfer a client's belongings to a warehouse and then wait until there are enough goods from other clients to fill an 18-wheeler before making the interstate move. The strategy is less expensive, but leads to frustratingly long wait times for the clients.
"People are willing to pay more if they can receive service right away," Reid says.
Eighteen percent of RARE Movers' clients make interstate moves, but the bulk of their business is inside of Route 128.
Reid grew up on Castlegate Road in Dorchester. He graduated from Boston Latin School and went on to attend UMass Amherst. But after a year on the Amherst campus, he returned to Dorchester to work his way through college, graduating from UMass Boston in 1996 with a bachelor's degree in economics. He worked for Gentle Giant to get through college.
Moving isn't easy work — especially in cities like Boston, where the older housing stock often requires feats of skill and strength to navigate furniture through narrow stairways to third-floor apartments. Once, while moving a baby grand piano, Reid's partner lost his balance, sending the behemoth down a flight of stairs into Reid's head. Reid managed to arrest the piano, tilt it on its side, and get it the rest of the way down the stairs. Then he was off to Cambridge City Hospital.