MFA exhibit invites visitors to linger, read and reflect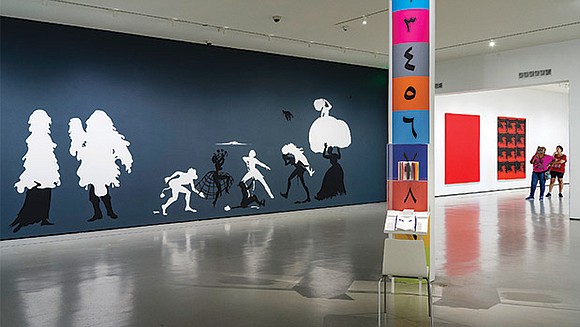 Among the thought-provoking curiosities on view in the exhibition "Political Intent," at the Museum of Fine Arts, Boston through July 2017, is an installation that invites the visitor to not just look but also linger for a bit of reading and reflection.
Organized by Jen Mergel, the MFA's senior curator of contemporary art, the show in the Henry and Lois Foster Gallery surrounds viewers with eye-catching works, including Kara Walker's wall-size stenciled silhouettes of racial stereotypes from the Old South.
Holding its own with quiet eloquence is the compact, potent installation by Sarajevo-born artist and architectural historian Azra Akšamija entitled "Mosque Manifesto: Propositions for Spaces of Coexistence."

Awaiting close and prolonged inspection is the small white brick of a book by the same name that is its centerpiece. On the cover is a compass-like, circular design with the 10 attributes that Akšamija's book proclaims as qualities befitting a mosque. Arabic numerals match sections of the book devoted to each attribute. The book's edges are tinted in colors that designate each section.

It lies open on a small white reading desk with a matching chair. Above the desk, a display case shows two other copies. On the first level of the display, the book is closed and its cover points toward Mecca. Oriented in the direction of Islamic prayer, it is a religious object here, functioning as a Qibla. On the second level of the display case, the book stands open, its tinted pages fanning out to create a multicolored cylindrical form. Here, it is a work of art, intended to delight the eye. The display case and desk are mounted around a pillar that extends the installation skyward, with a floor-to-ceiling display of the colors and Arabic numerals of each section within the book.
The book presents Akšamija's projects, which span art, architecture, design and history, as first-hand evidence that Islam and its traditions can coexist in a multicultural society. Informing Akšamija's explorations of immigrant Muslim experience in the West are both her scholarship and personal experience.
In 1992, when Akšamija was 14, war broke out in Bosnia. She and her family became immigrants, fleeing first to Germany and then to Austria. After witnessing how politicians destroyed her homeland's formerly tolerant, multiethnic society, Akšamija has spent much of her career exploring the power of culture, art and architecture to weave ties of communication and connection among diverse groups.
With its chair and reading desk, Akšamija's installation invites a visitor to take a seat and examine the book, which rewards browsing as well as page-by-page attention. On page 57, Akšamija presents her "Generative Design Principles," the core elements that turn a space into a mosque. Among them are the act of prayer, cleanliness and an orientation toward Mecca.
Pages 44 and 45 offer a manifesto in short form, written as if a mosque could speak. "I am not a building type…I can be anywhere and everywhere," begins one of the 10 proclamations. Another asserts, "My minimal volume is the volume of the human body. But, I am also a social space — congregation of many is better than one."