BPS open house highlights 10-year-plan process
Parents, students turn out for weekend sessions at Bolling Bldg.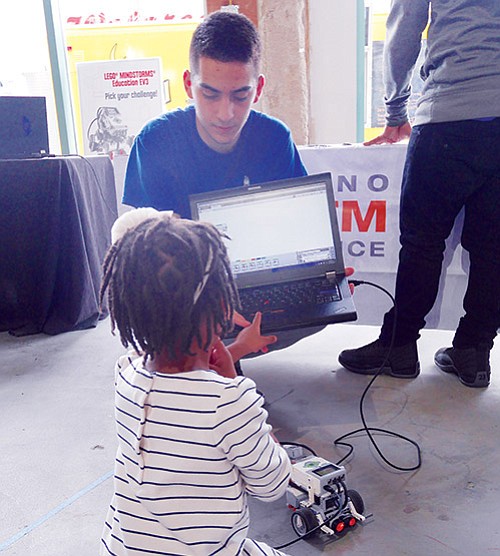 Boston Public Schools Superintendent Tommy Chang last weekend shared some of his department's efforts to acknowledge and address systemic racism.
"This is the issue that we have to tackle in this city," Chang said during a panel discussion on interrupting racism, part of a two-day open house hosted by Build BPS, the planning initiative launched by Boston Public Schools last year to develop a 10-year master education and facilities plan.
The panel on racism was moderated by Atyia Martin, the city of Boston's chief resilience officer. She showed a CNN report on white-black racism and children and a video by Race Forward on systemic racism. She drew panelists and audience members to share thoughts and feelings on what racism is and what we can do to tackle it.
"The issue is huge, it's screaming ... it's right there in our faces. Can we stop talking about it, and just do it?" said panelist Charmaine Arthur, director of community programs at Freedom House and parent of two black sons in BPS schools. "I can't teach my children to be color blind — we don't live in a color blind society. We have to acknowledge it, own it, confront it. Change comes with being uncomfortable."
City Councilor Tito Jackson, in the audience, helped clarify systemic racism in contrast to individual racist views and behaviors.
"We need to draw the distinction," Jackson said. "It's bad if someone calls me an n-word to my face. But it is much worse for me if my housing or my interactions with police or my education system denote that that word is true."
An Asian-American attendee noted that racism toward Asians is often invisible, prompting Chang to reflect on his own life experience.
A personal perspective
In his childhood, Chang's cultural and linguistic identity was not affirmed or sustained, he said, as his parents pushed him to stop speaking Mandarin and master English to escape the ill treatment they knew first-hand that immigrants often endure.
Now, Chang's department is placing a priority on developing culturally- and linguistically-sustaining education practices. He described some other steps BPS is taking to dismantle racial divisions: removing barriers in some schools between fourth-grade Advanced Work Classes, which skew toward white and Asian students, and non-AWC classes that more closely reflect BPS's black and Latino populations; and internally, hitting issues head on with deep and serious staff conversations about identity, race and white privilege.
"We have to break the systemic part down," he said. "It's been hard; it's a process that's continuing."
The Oct. 29-30 event, held in the Bruce C. Bolling Building, was an opportunity for BPS families and other stakeholders to learn about the 10-year master plan in progress.
Visitors browsed interactive exhibits illustrating visions for "classrooms of the future" and issues such as budget deficits. Discussion sessions addressed such topics as health and wellness, innovation, summer options as career pathways, and ways to increase the student voice in designing BPS's future. For children and teens, there were chess and math tournaments, literacy games and reading corners.