Batter up! The BASE launches girls' baseball program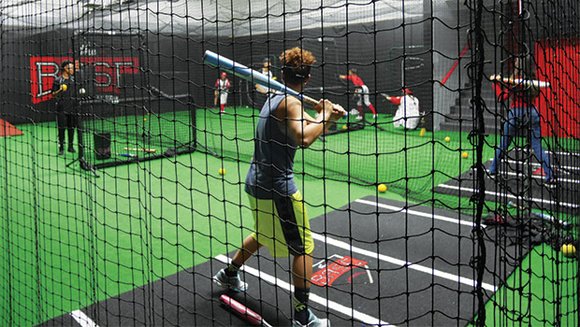 A Boston nonprofit known for combining baseball training and competition with academic and life skills support for boys has launched a new girls' baseball program.
The BASE, headquartered in Roxbury, started with a focus on boys. Founded in 2013 by Robert Lewis Jr. as an evolution of the longstanding Boston Astros team, The BASE's vision statement includes "combining sports and academic opportunities to transform the lives of black and Latino boys." In late 2014, a girls' softball program was added, growing quickly to 200 participants. But The BASE's core program remains baseball — and now baseball is for girls, too.
"We had the softball program, but we found that girls didn't have many opportunities for baseball, after Little League," said Linda Antonucci, manager of girls' baseball operations at The BASE. "I see this as something that is going to get so big — there's really no one in the country doing girls' urban baseball."
According to the national nonprofit Baseball for All, more than 100,000 girls play youth baseball in the U.S., but only 1,000 girls play high school baseball, despite the Title IX law that gave girls the right to try out for any sports team that uses public resources.
"There are still schools and leagues that don't allow girls to try out," said Justine Siegel, Baseball for All's founder and the first woman to coach a major league baseball team. "We have a cultural myth that boys play baseball and girls play softball. [But] once girls are told baseball is for them, they're interested in playing."
Gearing up
The BASE's new program is still in the recruiting stage. This first year, the program will be an "instructional league," Antonucci said, focusing on teaching girls how to play and acquainting them with The BASE's activities and culture.
On a recent Tuesday evening, The BASE's two indoor batting cages hummed with activity during girls-only batting practice. One after another, girls in the softball program stepped up to take a turn, swinging the bat to pound a bucket of softballs to the far wall. If all goes well, the girls' baseball practice sessions will reach this level, too, said operations manager Karla Aguilar, who will be assisting and coaching in the girls' baseball program. As girls sign up, they'll attend their own baseball instruction and practice sessions on Wednesdays.
Down a hallway, the scene changed to academic discipline. All ballplayers are expected to spend 30 minutes doing homework before they hit the batting cages after school, Aguilar explained. Young people just arriving chatted and sat down at tables to do homework; three teen boys listened as an instructor from the Benjamin Franklin Institute of Technology presented slides for a political science class that can earn the teens college credit. Shelves along the wall hold stacks of college and SAT prep guides.
Open seven days a week, The BASE's headquarters offers a welcoming space that keeps teens engaged with each other and with adults.