'Oklahoma!' on stage in Providence through June 5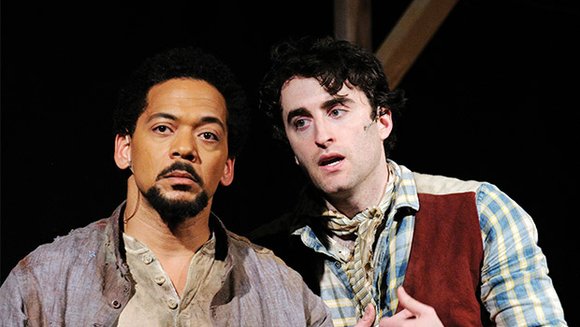 Like a wind sweeping down a plain, an exuberant production of the great Rodgers and Hammerstein musical "Oklahoma!" surges through the main stage of Trinity Reportory Company in Providence through June 5, lifting both the cast and audience aloft in its high spirits.
Reviving one of the great American musicals, director Richard Jenkins, a noted stage and movie actor, and his wife, accomplished choreographer Sharon Jenkins, have turned the theater into a setting of ensemble grandeur and duo intimacy. They orchestrate masterful staging and lighting by set designer Eugene Lee, a crack live orchestra led by keyboardist and musical director Michael Rice, classic costumes by Toni Spadafora, and an able cast that includes, on opening night, some scene-stealers who rival the romantic leads in magnetism.
The first collaboration between composer Richard Rodgers (1902–1979) and lyricist-dramatist Oscar Hammerstein II (1895–1960), whose subsequent Broadway hits would include other masterworks such as "Carousel" and "South Pacific," this quintessential American musical is based on a 1930 play by Oklahoma native and part Cherokee Rollie Lynn Riggs (1899 - 1954).
Hammerstein expanded its story and crafted the lyrics to melodies by Rodgers, who created such irresistible songs as "Oh, What a Beautiful Mornin'," "The Surrey with the Fringe on Top," "I Cain't Say No," "People Will Say We're in Love," and "Oklahoma!"
Their production makes the music integral to the plot — a first for a Broadway musical — and when it debuted on Broadway in 1943 it ran for five years. The show spawned many touring productions and in 1955 became an Academy Award-winning movie. Trinity's production is faithful to the original and its abiding power to stir hearts and spirits.
About two hours long with one intermission, the Jenkins production turns the entire theater into a performance space that shifts between scenes of intimacy and a sense of wide, open space as well as the story's moments of sunshine and darkness.
Pioneer spirits
The production opens with the four characters who are also at the center of the Riggs story: Curly, a cowboy courting farm girl Laurey, who pretends to shrug off his attentions; her Aunt Eller, a ranch owner; and, spoken of but not yet seen, Jud, a hardworking farmhand but brooding loner who longs to escort Laurey to the upcoming square dance.
Around these four swirl townsfolk and friends, including big-spirited, solid Will, engaged to Ado Annie, a sweet and boy-crazy girl whose anthem features the refrain, "I'm jist a girl who cain't say no."
"Oklahoma!" is about sharing the land, getting along and coming together. While following the progress of the two courting couples, its plot touches on the friction between farmers and cowboys over water rights and fencing as well as the tragic outsider, Jud, whose only memory of human tenderness is Laurey's visit to his cabin to bring him tea when he was in bed with fever.
All of this is brought to life with stage magic and actors who can act, sing and dance in numbers that vary from a square dance to a brawl. Rendering the original choreography by Agnes de Mille (1905-1993), these scenes include a rendering of the subconscious — a dream ballet in which Laurey imagines Jud and Curly as rival suitors.