Doing startups Smarter
Dudley-based accelerator launches new wave of firms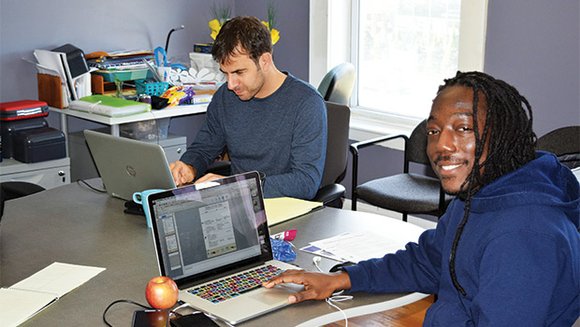 Phil Ellison, co-founder of ULink, a company developing a web-based platform to help students in community colleges transfer to four-year universities, credits Dudley Square-based business accelerator Smarter in the City with helping him turn his business from a dream into reality.
"Smarter in the City was really the opportunity to get recognized for an idea and to work on it and try it out," said Ellison, a Tufts University student finishing up an undergraduate degree in African studies with a minor in entrepreneurship. "Smarter in the City was the first step for getting recognition and resources."
ULink and Ellison, along with fellow Tufts student co-founders Parisa Esmaili and Jubril Lawal, are part of Smarter in the City's recently finished third cohort of startup companies.
Along with entrepreneurs from four other companies, ULink's founders spent five months at Smarter in the City beginning last September. Smarter in the City provides the entrepreneurs with free office space, shared business amenities — printers, copy machines, kitchens, meeting rooms — as well as access to mentors and a program of business development education that is designed to help develop the startups into viable ventures. The companies are also provided a stipend during the five-month stay at Smarter in the City to allow the entrepreneurs to devote their time and effort to developing their startups.
Accepting applications
Smarter in the City was started in 2014 and has run three cohorts of startups supporting more than a dozen local companies so far. The accelerator has been praised for its efforts to boost the startup economy in Boston's neighborhoods. Admission to a cohort comes through an application process — now open for the fourth cohort to start in September 2016 — but special attention is paid to entrepreneurs from Roxbury, Dorchester and Mattapan and other city locales.
While traditional Boston innovation hubs such as Kendall Square or the Seaport District always seem to garner the most attention, Smarter in the City was singled out in its first year as one of just 50 business incubators in the country to receive $50,000 from the U.S. Small Business Administration's Growth Accelerator Fund.
Importantly, for Gilad Rosenzweig, founder and executive director of Smarter in the City, what the business accelerator is doing is helping build a network of local entrepreneurs that want to grow and stay in the neighborhoods they were born out of.
"The ideal success would be a company coming out of Smarter in the City and hiring some tech talent, marketing and sales support, and opening up their office right here in Dudley Square," Rosenzweig said. "And I think we will have that hopefully with a couple of the companies here now."
Even though the cohort time runs for five months, it is not like Smarter in the City just drops the companies. Some continue to work in the space and others continue to take advantage of the mentoring and support as they move out on their own.
Just last Thursday night, for example, Smarter in the City held a Roxbury Founders Night at the Roxbury Innovation Center as a way to continue the networking opportunities for all its former startups and also showcase the businesses to the business community at large.